'If the supply chain doesn't represent our values, it can give a very mixed message to the customer'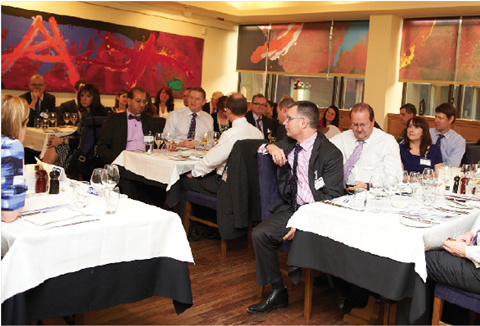 Insurers need to make sure that their supply chains give the same service as they do in order to avoid disappointing customers, said Canopius head of claims – personal lines and property Michael White.
Speaking at an Insurance Times claims clinic held in association with Davies Group, White said: "The supply chain is an important element of what we deliver to the customer, but it's also the only face that the customer ever sees representing us as an insurance company.
"If that supply chain doesn't represent our values and aspirations about what we are looking to do, it can end up giving a very mixed message to that customer."
Listening to the customer
White said that the biggest challenge Canopius has is to make sure the customer is listened to properly as early as possible in the claims process and that they get a tailored service.
White warned that insurers could not expect the supply chain to give the best service if insurers put them under financial pressure.
"Drilling down supply chain pricing doesn't enable the supply chain to be able to give the customer service that you then expect," he said.
Another reason for insurers to make sure their supply chains are top quality is that if the customer makes a complaint, the insurer has to sort out the problem, he said.
Meeting expectations
"I don't want to get into supply chain bashing - that's a very easy trap to fall into – but they can upset customers as much as they like," White said. "When it comes to the Ombudsman, they don't look to the supply chain to solve the problem, they look to the insurer. So it always comes back to us – we have to make sure they meet customers' expectations."
Davies Group head of liability, construction and engineering Suzanne Kearney said that the insurance industry was now paying for some of the mistakes it made in the past, including paying off employees at the top to reduce overheads. "As an industry we did do the stupid thing in the early part of the 1980s of getting rid of anybody that had a lot of experience. It was the done thing," she said.
JLT Specialty & Echelon Claims Consultants Ltd claims consultant Jon Fitzsimmons said third-party and liability claims fraud was becoming more prominent due to the increasing number of prosecutions by insurers.
But he added that insurers could still do a lot more to tackle liability fraud. He gave the example of insurers ignoring calls from members
of the public about potentially fraudulent claims.
Soundbites
Experience needed
"I do think our industry went through this stage where claims were seen as back-office, were seen as an overhead, and we stupidly thought, not just in claims, that it was a good idea to pay off a load of really experienced people. I will defend our industry, but I'm not going to sit here and claim that we have the number of perfectly skilled people that we need."
David Williams, claims and underwriting director, AXA
Educating the public
"A lot of the time, when people make a claim they think it's almost acceptable to add a bit on, because they think the insurer is going to knock a bit off. Should we accept that, as a society? Years ago, drink driving was socially acceptable; now people look aghast if someone says they will have a drink and then drive their car. Again, do we need to educate? People need to know that when they present a claim, they have to do it properly and fairly."
Lynn George, European claims manager, Chubb
No more awkwardness
"There's always been a negative association with making a claim. We've always had someone telling a story about it being an awkward experience. It seems to me that there needs to be an educational process outside the industry on what insurance claims are about. As an industry we have to change that perception, not just as companies."
Mark Luff, senior casualty claims examiner, Chubb
Keynotes
Suzanne Kearney, Davies Group
The claims industry is often unfairly given a bad name, but that can be tackled through public education and making sure staff are well trained, according to Davies Group head of liability, construction and engineering Suzanne Kearney.
Kearney said that a CII survey of 400 insurance buyers found that the public perception of insurance claims was very low. The survey found that just under 73% of insurance buyers thought that insurers made policy terms and conditions deliberately complicated to avoid paying claims. Just over half of those surveyed thought that claims were never paid out fairly, while one-third thought that insurers set out to find fraud in the claims they examined.
Kearney survey also found that, when taking out or renewing a policy, 79% wanted insurance providers handling claims to have professional qualifications.
She said that while the claims environment can be tough with insurers and brokers analysing the benefits and cost of claims spend, the claims industry still needed to take action to make sure it was seen in the best light.
"I'm not sure the perception of us as a claims industry is the one we want people to have," she added.
Michael White, Canopius
Insurers need to ensure that their claims staff dealing directly with clients are well-trained experts to make sure the claim is properly understood and to avoid being overzealous in fraud-checking genuine claimants, according to Canopius head of claims - personal lines and property Michael White.
"One of the biggest challenges of recent years, and an ongoing challenge, is treating customers fairly. But you also have to identify potentially fraudulent claims and make sure you are not paying claims you shouldn't," he said. "We should be making sure we are supporting our own claims teams, raising professional standards and making sure communication with the customer is at the forefront of what we do."
Canopius also saw brokers taking very different approaches to claims, he added. "Some brokers want very little involvement. It's very much they've sold a product, and if anything happens it's up to us to make sure that there are people to deal with their client for them. Others have their own claims team and have much more involvement."
Jon Fitzsimmons, JLT Specialty & Echelon Claims Consultants Ltd
The tough economic climate will lead many brokers' larger clients to cut the amount they spend on insurance and claims, warned JLT Specialty & Echelon Claims Consultants Ltd claims consultant Jon Fitzsimmons.
He said: "Because of the amount being spent on claims and the insurance spend overall, it's inevitable that if they are not already looking at this area, it's going to be coming under the spotlight very soon."
JLT has had to change to keep up with what clients expect, he added. "We have to find a way to meet their needs and develop more in-depth services to support them in the area of claims," he said. "I do a lot to analyse and benchmark the claims process and looking in detail at how claims are handled."
He said that JLT's clients tended to be larger companies, some with their own captives, and that the larger clients tend to scrutinise claims more. "Some clients look very closely at the minutiae of how claims are delivered to them and the outcomes. Yet, it's not always the biggest clients that are the most discerning about claims service."