Students get to grips with Discover Risk interactive boardgame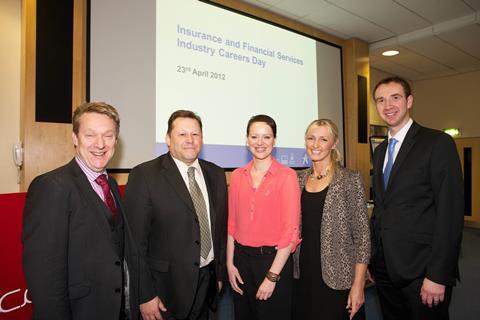 The insurance professionals of tomorrow were touted for at an educational event held by the Chartered Insurance Institute (CII) this week.
The Insurance and Financial Services Careers Day was held at Manchester Conference Centre on Monday for finance, business and entrepreneur students at Career Academies schools and colleges in the North West.
The day was opened by Career Academies UK's regional manager for the North West Ian Nichol, president Karen Cartridge, and deputy president of the Insurance Institute of Manchester Barry Thompson.
Two presentations followed, offering an overview of insurance and financial planning. Heading up the insurance session were staff from Chubb Insurance, while experts from Cotton Financial Planning, Xentum and Gresham Wealth Management hosted the discussion on financial planning.
Included in the event programme was the CII's Discover Risk education initiative. In teams, students played an interactive board game that demonstrated the importance of businesses and people to manage different levels of risk. CII members from Allianz and AXA's local offices were on hand to offer support.
The session was attended by Career Academies students at Darwen Aldridge Community Academy in Lancashire, Oldham College in Oldham, St John Fisher Catholic High School in Dewsbury and Archbishop Sentamu Academy in Hull.
Nichol said: Career Academies is delighted that through its partnership with the CII, students across the region were able to attend the workshop and find out more about working in insurance. This provided essential information for students before they make important choices about their futures."
CII relationship manager Caspar Bartington said: "Despite challenging economic conditions, the insurance and financial planning sectors remain stable and are making real steps towards becoming established professions. As a result, we're seeing a growing interest in insurance and financial services.
"Careers workshops like ours are important in giving young people insight into the sector and developing important skills such as teamwork, influence, negotiation and communication. The practitioners on hand have entered the profession at different stages of education, from school leavers to university graduates, so they were able to advise on the different routes and career options available."
Career Academies is a national movement of more than 1,000 employers and 150 educational institutes that provides social and career development through mentoring, workplace visits, seminars, lectures, internships and workshops.