Insurance-dodger dialled 999 to ask police to call off chase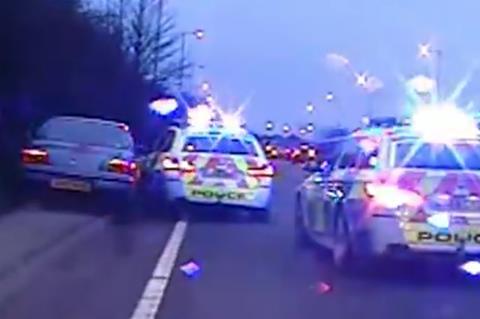 A driver who dialed 999 to ask police to stop chasing him has been jailed for dangerous driving and having no car insurance.
Brian Dewey failed to stop his Honda Legend when flagged down by officers who knew he only had a provisional licence and was uninsured.
The 36 year old labourer swerved around road blocks and stingers – spikes used by the police to stop suspect cars.
During the pursuit, he call the police control centre to ask them to call off the chase.
The chase lasted 50 minutes, one police car was put out of action and two more were damaged, before police cars forced him into a hedge (pictured).
He was jailed for 15 months at Chichester Crown Court, banned from driving for three years, ordered to take an extended driving test and told to pay a £100 victim surcharge.
"Thankfully, nobody was injured in this incident, which was not conducted at high speed, but Dewey's actions in trying to avoid police through a busy Monday evening rush hour could have had disastrous consequences," said PC Peter De Silvo from the Surrey and Sussex Roads Policing Unit.
"For nearly 50 minutes he refused to stop for police units, avoided stop sticks deployed to try and burst his tyres and at one point called 999 and asked us to stop following him!"