There are more insurtech roles being advertised in the UK than in European competitor Germany, according to a study by Joblift
UK insurtech vacancies are showing double the growth of competitor Germany. The types of roles insurtechs are hiring for differ from the usual top professions that traditional insurance companies look for, leading to some speculation that these jobs could be at risk in the future.
Insurtech vacancies showing growth
There were 913 insurtech vacancies posted in the UK in the last 12 months, according to a study by job search engine Joblift. Despite this being a relatively small number, growth increased by almost a quarter (22%) a month, while the UK job market is growing at a far lower rate (1%).
This is double the growth of insurtech vacancies in Germany, one of the UK's main European insurtech competitors. According to Accenture, the UK saw a record-breaking £218m invested in insurtech in the first half of 2017, despite Brexit worries.
Capital is king
Three-quarters (76%) of all UK insurtech vacancies posted were for roles in London. Manchester came in second, while Northern Ireland was in third place. Both had the same percentage of vacancies posted (2%), which was far smaller than in the capital.
It was a somewhat similar story in Germany, where nearly two thirds (65%) of positions advertised were in Berlin, despite Frankfurt being a financial centre.
There have been 698 insurtech vacancies posted in London over the last 12 months, compared to 275 in Berlin.
Incumbents vs Insurtech
The most sought-after workers in insurtech were web developers and analysts (12%), followed by programmers (9%) and consultants (8%).
In comparison, handlers (9%), financial advisors (8%) and accountants (5%) made up the most sought-after traditional insurance roles, leading to speculation that these positions could be at risk in a future insurtech-led job market.
The insurtech sector influence may be increasing with growth, but the numbers of vacancies still pale in comparison to the traditional insurance sector
Traditional insurance has advertised 75 times more positions in the last 12 months than InsurTech. However, advertised sector positions have, on average, decreased slightly (1%) each month, while insurtech has seen more rapid growth.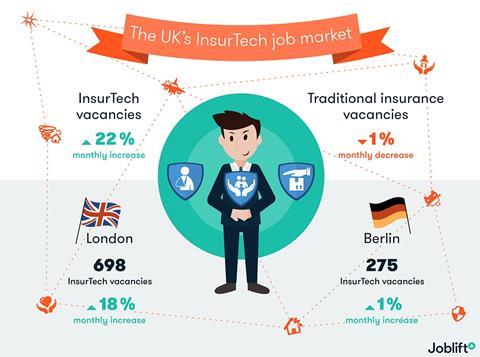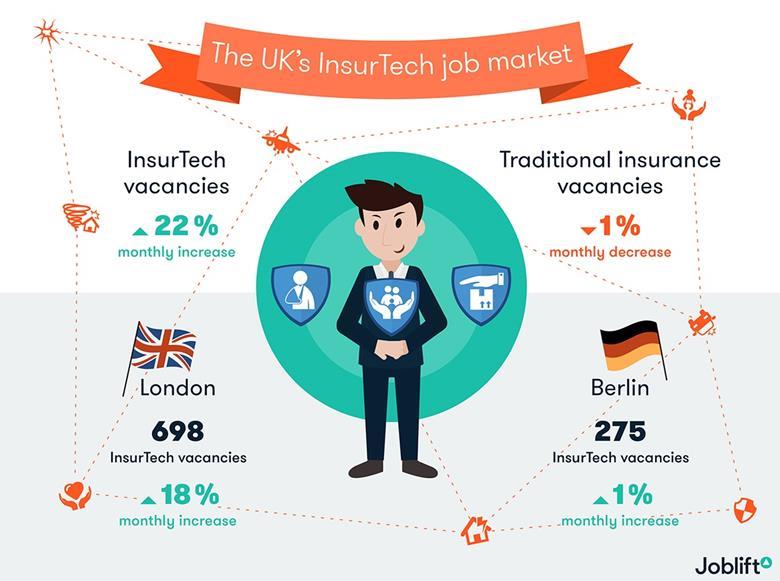 Credit: Joblift.co.uk