The 44 year-old man made claims for a £6,000 computer and jewellery worth over £33,000
A man has been sentenced to nine months in prison and ordered to pay £10,000 in fines after exaggerating a burglary to make over £40,000 worth of fraudulent claims.
After an investigation by the City of London Police's Insurance Fraud Enforcement Department (IFED), Mahmood Khan, 44, from High Wycombe, pleaded guilty to two counts of fraud by false representation and four counts of making articles for use in fraud.
The burglary was first reported to RSA on 1 April 2014. RSA then appointed LMG Jewellery and loss adjustor Crawfords & Company to handle the claim on their behalf.
During a phone call made by LMG to verify the items that were being claimed for as stolen in the burglary, the phone handler made a mistake and added a loss list from a separate customer onto Khan's list of stolen items.
These items included pieces of Asian gold jewellery, three Tresor bracelets, a Raymond Weil watch, an eternity ring and a diamond ring.
In a report prepared by LMG for RSA, they highlighted several issues with the description and value of the items being claimed.
Crawfords also prepared a report- they detailed how an additional Mac Pro computer worth £5,699 was stated as stolen after being bought on 8 December 2013, but later discovered that that model had not yet been released to the public.
Khan provided a bank statement which matched the date he claimed he'd purchased the Mac Pro computer on and for the same price, however the retail store where the computer was allegedly purchased from confirmed the order was not for the same computer. These documents had been forged by Khan himself.
Khan later admitted that some of the items hadn't been stolen. Police then found the apparently stolen jewellery (some pictured below) in a suitcase hidden in his home.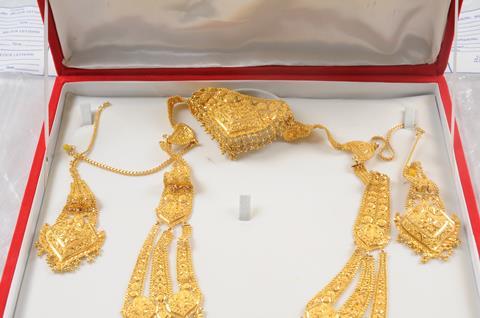 On 1 December 2014, the investigator acting on behalf of RSA wrote to Khan and voided the insurance policy, receiving no challenge. The case was then referred to IFED, and on 12 June 2015, Khan was arrested.
He was sentenced at Aylesbury Crown Court on Wednesday 22 November 2017. He was given nine months in prison, suspended for two years. He was also fined £9,000 for all six counts of fraud and ordered to pay £1,000 in compensation to RSA.