Brightside's chief executive Martyn Holman has big shoes to fill, but he is rising to the challenge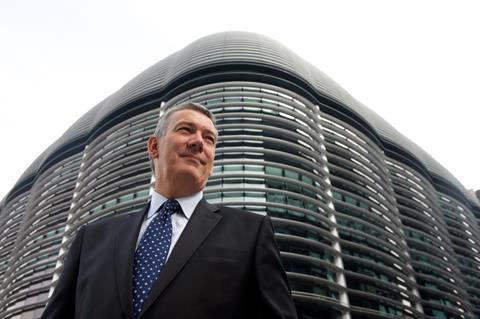 Arron Banks is a tough act to follow. The former Brightside chief executive's energetic, sometimes combative style made him impossible to ignore in the crowded UK general insurance broking market.
He even went out with a bang: vowing on his resignation in June to return with private equity backing to buy out and delist his former firm.
Fortunately, Banks's replacement, the down-to-earth, chummy Martyn Holman, is not even trying to mimic his former boss and friend of 20 years. He's running Brightside his own way.
He says: "My style has always been a little more laid back than Arron's. Arron has always had a little bit of a confrontational streak in him, while my approach is far more getting on with people and trying to encourage success that way."
Holman is speaking to Insurance Times three months after replacing Banks, having got the measure of the business and where it goes from here.
Busy times ahead
This period has been far from quiet. Holman has already had to put out some fires. Also, having identified several areas for future growth, such as online SME business, he will have plenty to do in trying to ensure his plans bear fruit in what are tough market conditions for brokers.
Furthermore, he has to deal with a potential takeover bid by the former boss, and decide what, if anything, Brightside wants to buy.
Holman faces many challenges, but he is well equipped to rise to them. If anyone knows the company's core broking operation, he does.
He was hired by Banks and fellow Brightside co-founder John Gannon to set up subsidiary commercial business broker One Business Insurance Solutions, and he has been the group's insurance broking director for the past five years.
When he took over as chief executive, he knew exactly what he was getting. "There were no surprises," Holman says. "If there had been, clearly, I wouldn't have been doing my job previously."
Further, it is not as though Holman has a turnaround job on his hands. Banks left Brightside in fine fettle. The broker made a profit after tax of £5.6m in the first half of 2012, up 12% on the £5m it made in last year's first half.
Unlike many brokers, Brightside is also growing its top line. First-half 2012 revenues were £43.6m, up 9.5% on the £39.8m it brought in during the same period last year.
If you have got something that's hurting you, stop it hurting you, and if you can't, get rid of it"

Martyn Holman, Brightside
The company's revenues should be boosted by the affinity deals it signed with high-street brands Debenhams and Asda in July. Holman hints that one or two other brands may sign up.
Holman should not expect an easy ride, however. Brightside has had to take some tough decisions to root out unprofitable business, which resulted in an overall 5% drop in policy sales in the first half of 2012 to 227,610 from 240,665.
The company ditched its eHome online household product, which was underwritten by Aviva. It is working on relaunching its online home proposition with a panel of insurers.
It has also canned its unprofitable e-Life business and pulled back from offering gap insurance because of low profit margins.
Although the cuts have reduced policy sales, Holman contends they have boosted profitability: "If you have got something that's hurting you, stop it hurting you, and if you can't, get rid of it."
Of course, Brightside's shareholders will be looking for growth to counteract these reductions, and Holman does not want to disappoint them.
Shortly after taking office, he gathered the team to brainstorm what else the company could be doing. Since Brightside has a solid offline commercial SME offering, the next logical step is online SME commercial business.
Holman says: "The online environment for some of our SME products has to be a rich seam."
The company is also looking at branching out into employee benefits. Holman says: "We do have a large base of commercial clients, so we believe there may be some opportunity around there."
Brightside is conducting a review on employee benefits, which should be completed this month.
Other brokers are finding organic growth in the current market conditions tough. But Holman is confident he can deliver it.
He says: "If you're a plumber, you will need some public liability insurance, and if you've got a van, you need to insure it. That's our bread and butter. It is where we have been strong for 10 years and continue to be so."
Predator or prey?
Then, there are acquisitions. While Holman does not say as much, one gets the impression that Banks's bid to buy Brightside, while serious, is little more than talk at the moment.
Holman's dealings with Banks mainly centre on Brightside's relationship with Southern Rock, a key member of Brightside's insurer panel. He says: "He's still around - put it that way."
Holman acknowledges that, as a listed company, Brightside could be bid for any time. But Brightside is more likely to play the role of predator than prey. The company generates annual cash of about £20m, which could be used for acquisitions.
Holman says: "That gives you quite a lot of firepower to go to the market and buy something without needing to raise any money." A number of deals have crossed his desk, he says, but so far nothing has piqued his interest.
Regardless of whether acquisitions emerge, Holman is confident Brightside will not need to buy to grow.
He is reluctant to disclose firm targets for 2013, but says: "There will be growth required across everything we do." With Brightside's history of profitable growth and a pipeline of new products and relaunches, Holman is well placed to deliver.
Brightside's three challenges:
● Continue to produce the profitable growth shareholders expect from Brightside
● Effectively communicate the business objectives to shareholders
● Successfully launch the new and revamped products and ensure their profitability