AA Insurance estimates up to £14m in claims for cars written off by flooding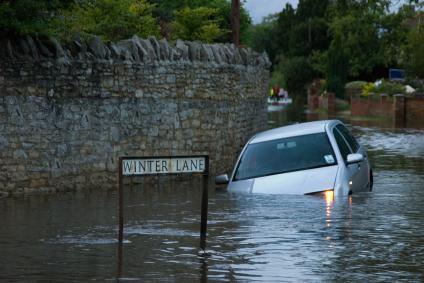 The used car market could become swamped with flood damaged cars following the extreme weather in recent weeks, AA Insurance has warned.
The broker estimated the motor insurance industry could be facing claims of up to £14m for cars written off by the flooding across the country in the past fortnight.
It said it had dealt with about 80 cars ruined by flood water over the past week and estimated that nationally about 2,800 cars have been affected at an average cost of £5,000 per car.
But AA insurance director Simon Douglas said he was concerned flood damaged cars could find their way onto the open used car market, adding common problems with cars that had been flooded included issues with catalytic converters and exhausts, seized wheel bearings, worn brakes and dodgy alternators and starter motors.
"Water can seriously affect electrical and electronic systems including the airbags, which might go off unexpectedly, or not deploy when they should," he added.
The AA warned some car owners whose vehicles had dried out after having been flooded could simply sell their car on without making an insurance claim and without being aware of potential damage done to the car.
"Buyers should beware when buying from private vendors as they may have no come-back when problems emerge maybe after some weeks," Douglas said.
The AA said potential buyers of used cars should look for common signs of flood damage. These included checking the spare tyre well for standing water, checking for running condensation inside the car, checking the oil filter cap for a whitish mayonnaise like deposit which would indicate water in the engine, checking the heating system in the car for any unpleasant odours and checking for water in the car light housing.