Civil Liability Bill progress and new car registrations could be leading to lower premiums compared to Q4 last year, but Q1 premiums are still at their highest level since the ABI began tracking them
The ABI's motor premium tracker shows that while premiums in Q1 have fallen since Q4 2017, they are still the highest for the quarter since tracking began (see graph below).
According to the ABI's data, the average motor premium for Q1 2018 was £478, up £14 on the previous year.
This does signal a drop from Q4 2017, when the average motor premium was £13 more, at £491.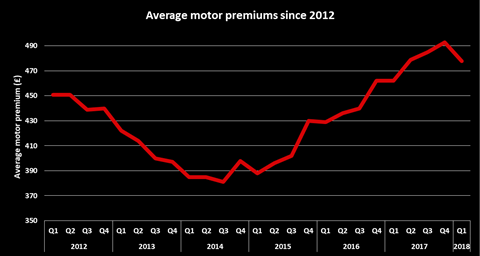 Data source: The ABI's Motor Premium Tracker
The ABI suggests that the reason for the drop from the previous quarter is due to seasonal trends.
With new car registrations in March, there is a higher demand for motor insurance and more competition.
In addition, the announcement of the inclusion of discount rate reform in the Civil Liability Bill, which has now been read in the House of Lords, could have made the market more optimistic and resulted in a fall in prices.
Rob Cummings, the ABI's assistant director, head of motor and liability, said: "While this small fall in the last few months gives some relief to motorists, it is in line with seasonal trends and the underlying cost pressures from things like personal injury claims remain.
"It can't be right that for every £1 in compensation paid to whiplash claimants, an additional 47p goes to their lawyers. The Civil Liability Bill now going through Parliament will fix a broken system and help millions of motorists whose premiums had been going up and up over the last two years."
The ABI's numbers are at odds with Willis Towers Watson and confused.com's tracker, which said that quoted premiums were now £768 on average, which is £13 less than in Q1 2017.
The AA's Insurance Index showed that the average quoted motor premium for Q1 was £660.64, which is a £4.83 drop on the same quarter in 2017.
These discrepancies arise because the ABI's data is based on the prices paid for premiums, rather than quoted prices.