M&A within global insurance has peaked for the second time this year, with insurtech coming top despite the a previous lag suffered at the hands of Brexit
Global insurance M&A increased for the second time in a six-month period, despite a Brexit lag, with technology and insurtechs 'topping the bill.'
According to the recent Insurance Growth Report by law firm Clyde and Co, M&A has picked-up during the first half of 2018, with Europe the only region to post a fall - 65 in H2 during 2017 to just 59 deals in H1 2018.
Overall M&A rose in the first half of 2018, seeing 186 deals worldwide as opposed to 180 in the latter half of 2017. M&A volumes plummeted in early 2017.
The report stated the insurance market is constantly evolving and remains 'uber-competitive'.
Insurtech has 'topped the bill' with several deals this year from Canada's Mnubo, an IoT analytics company and Dutch mortgage platform, Jungo.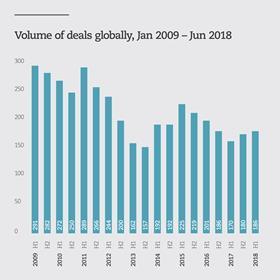 Seismic shift
In the reinsurance market, Andrew Holderness, Clyde and Co's global head of corporate insurance, believes a 'seismic shift' is underway. He explained: "Carriers are looking to write risk at every level, be it from the direct side, reinsurance or retrocession and for that they need sufficient scale and balance sheet strength."
He said this is due to it being 'increasingly difficult' to remain relevant as a large monoline reinsurer and therefore Bermudan businesses continue to be put up for sale or look to diversify by acquiring new underwriting assets themselves.
Holderness, said: "In jurisdictions around the world large reinsurers are striving to get closer to their customers by increasing their footprint in the primary market either organically or through acquisition."
Corporate insurance partner at Clyde and Co, Vikram Sidhu, pointed out that potential buyers are challenging high valuations. He claims that the shift is only to 'delay deals' as parties negotiate more aggressively over pricing.
Holderness added: "As they seek to compete, traditional players will need to evolve their business models and leave no stone unturned in the quest to protect market share and drive growth."
Brexit
Holderness refers to the increase as the 'first green shoots of recovery' taking hold. The rise occurred despite Brexit taking up 'huge chunks' of management time pushing M&A lower in priority.
He said: "Despite continuing uncertainty over the detailed mechanics of Brexit, most affected insurance businesses now have their operational plans in place and focus will return to the growth agenda.
"This means re/insurers within the EU and the UK will start looking for targets again while they themselves may be targeted by acquirers from outside the region."
But Holderness stressed: "Most insurance businesses now have their operational plans in place and focus will return to growth agenda."
Despite optimism over the 'Brexit lag' ending, deal volume dipped again in the first half of 2018. But deals are still being made and Europe remains the second busiest region for M&A behind the Americas with 97 deals in H1 this year.
Technology
Interest in technology as a 'growth driver' has also risen, according to the report. New market disruptors such as Amazon and Google are looking to challenge established models whilst pressuring more traditional insurers. However, scale also remains a key transaction driver.
Holderness added: "Technology is key to unlocking new customers in new markets via new distribution channels."
He said that some technology companies are seeking to acquire 'dynamic and innovative' startups to deliver proven solutions whilst others are more interested in investing in-house.
Subscribers read more