The heatwave of summer 2018 has caused the highest quarterly increase of subsidence claims since records began
The three months of July, August and September saw the highest quarterly level of subsidence claims in over a decade.
In Q3 2018, more than 10,000 households made claims worth a total of £64m, according to the Association of British Insurers (ABI).
This is the highest level seen since the record-breaking heatwaves of 2003 and 2006.
Compared to Q2 2018, the number of claims rocketed from 2,500 to 10,000, and the value rose from £14m to a staggering £64m. This 350% jump is the largest quarter-on-quarter increase since records began in 2001.
Bringing the heat
Subsidence claims occur when the clay underneath a house sinks and compromises the structural integrity of that property, often causing visible cracks. This is often caused by a lack of moisture in the clay, so prolonged warm, dry weather can dramatically increase the danger of subsidence.
The hot weather of 2018 saw some UK regions experience the driest months on record.
According to a report by Crawford, subsidence claims are already up 400% from last year, and are coming from a much wider geographical area as usual.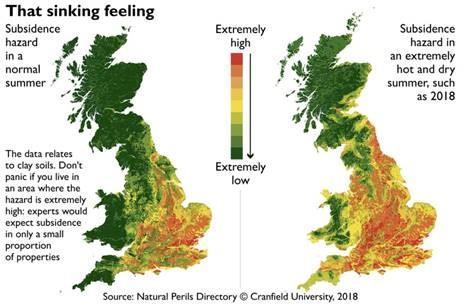 Both the ABI and Crawford relate subsidence claims with the clay belt in the south east of England, but is also found elsewhere across the country.
With the sustained heat affecting large areas of the south west, midlands, northwest and north east, these areas have seen notable spikes in subsidence claims Crawford says "for the first time an a generation."
The ABI's Senior Policy Adviser for Property, Laura Hughes, said: "Thousands of people across the UK are now suffering because we experienced such an unprecedented period of dryness this summer.
"Insurers understand that this is a stressful time for affected homeowners and are providing widespread support to help with repairs."
Fears realised
In October, the AA reported that home insurance premiums had fallen slightly over the third quarter, despite concerns that the long, hot summer would lead to a rise in subsdence claims.
Janet Connor, director of AA Insurance said at the time: "Buildings premiums have been climbing since 2016 largely in response to the growing risk of storm and flood damage although 2018 has seen relatively few such claims since last winter.
"However, the low rainfall over a long hot summer is leading to concern among some commentators that there may be a rise in subsidence claims over coming months."
And it appears that concern was justified as such claims are at one of the highest levels it has ever been.
Chris Cowen, client director at Auger said that while these types of claims are often subject to "peaks and troughs, the spring and summer of 2018 has been unusually hot and dry and has resulted in a surge of subsidence claims. With volumes more than four times the average and claims seeming to peak a couple of months earlier, it has proved a challenging time for those in the industry."
What should be done?
Cowen says all parties need to work together to ensure that the number of visits required is as low as possible.
He said: "Utilising technology to obtain video and photo evidence directly from the customer will continue to help screen a large number of claims. Loss adjusters and their supply partners need to be suitably prepared to complete their investigations in a single visit.
"Empowering supply partners with delegated authority is a positive way to reduce claim duration."
Sustained effects
Cowen, however, believes the industry is still going to be dealing with these claims well into the new year.
He said: "It is inevitable that there will be a significant tail to the surge well into 2019 and beyond, with a number of high value claims requiring mitigation including underpinning or ground stabilisation."
Subscribers read more