Oval's chief executive says that while his target is organic growth, small acquisitions are on the agenda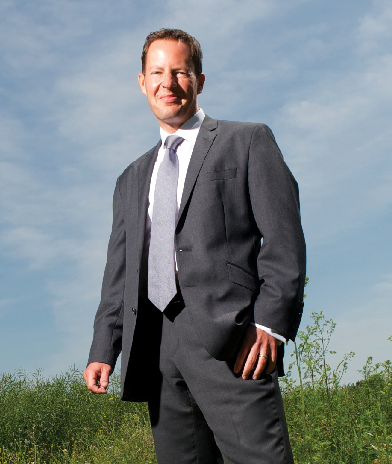 Perhaps Oval chief executive Peter Blanc has been watching too much of the European football championships, judging by his response to those who wonder if Oval is cost-cutting. "If you were a forward for Barcelona, you wouldn't want to be playing two stone overweight, would you?" he asks.
It's not a typical answer by a chief executive, but then Blanc isn't your typical corporate boss. There's no convoluted management speak with Blanc, just a great turn of phrase, a rich vocabulary and bundles of energy.
Most importantly, he's clear and straight-talking when it comes to how he will lead the consolidator, which has finished with headline-grabbing acquisitions and dreams of a quick and easy path to flotation, through its next phase of development.
It's this point that Blanc wants to emphasise at today's Insurance Times interview at Oval's office in the picturesque Essex town of Feering. "The consolidator bit was yesterday's story; now it's Oval," he says.
What some companies do when they realise they've got too much overhead is shoot Doris in accounts'

Peter Blanc, Oval
The job ahead is huge, but certainly Oval's former chief executive Phillip Hodson believes in the 41-year-old, having carefully mentored him.
Blanc sold his Essex-based broking business FMW to Oval in 2007. In just five years he's gone from a regional managing director to deputy chief executive and now boss of one of the UK's largest independent brokers.
Some speculate that he's a short-term appointment prior to a sale - Marsh was said to be interested this time last year. A puzzled-looking Blanc bats that suggestion out of court,questioning why anybody thinks it would be a good idea to sell at the bottom of the market.
Looking for a challenge
Instead, Blanc stresses he's here for the long-term. "Despite my tender years and youthful good looks," he quips, "I've been there and done it in terms of running a company, and I was looking for the challenge of running a bigger company."
At one point former managing director Jeff Herdman was expected to get the top job. He's no longer with the company. Why? Blanc says: "What some companies do when they realise they've got too much overhead is shoot Doris in accounts, and then start at the bottom end. The board carry on regardless.
"We've gone the other way: we've started with the board and worked down. We decided that Jeff, for all his qualities, was part of an infrastructure that could have made acquisitions and carried on growing and growing.
"When you stop making the acquisitions, you look at the size of the board and make sure it is fit for purpose and the right size."
Shareholder legacy
Another legacy has been shareholders who sold their business to Oval during the boom years, but now want out. One is Philip Bland, who sold Midlands broker Bland Bankart to Oval in 2004. Blanc says he'd like to buy out the minority shareholders, if the funds become available.
"We've got some shareholders who have been with the company quite a long while, and quite frankly they probably weren't expecting to still be with the company now. It would be quite a sensible, decent thing to do to see if we can get a liquidity event for some of those minority shareholders."
At this point in the interview, the Insurance Times photographer interrupts: can he get an interesting shot of Blanc out in a field? "Interesting shot? What do you mean, naked?" He triggers much laughter.
Blanc has an easy manner and a smoothness similar to Stuart Reid, a rival chief executive at Bluefin.
But when speaking of his rivals, Blanc's easy manner transforms into a steely-eyed ruthlessness. He has a dig at other consolidators, warning that insurers will be looking to improve their margins in the tough trading conditions. That could mean a renewed assault on consolidators demanding high commissions.
Couldn't that mean an attack on Oval, though? Blanc says that Oval is in a "happy" place with its underwriters. RSA and Allianz are both shareholders. RSA even offered a £10m loan a couple of years ago.
Working with RSA
"We get on fantastically well with RSA. I had dinner with Jon Hancock [commercial director] and Chris Sime [sales director] last night, and they're very supportive. And we're looking at all sorts of ways we can continue to work together."
The theme of Oval being different to rivals such as Towergate or Giles, which have higher levels of debt as a multiple of earrings, is one that Blanc wants to get across. At only two-and-a-half times earnings, Oval's debt is "almost insignificant", he says.
And unlike its peers, Oval is under no pressure to buy. "If you've made promises to underwriters that you're going to grow your book by £20m over the course of the coming year, and you haven't done that, and organically it's difficult to do, then there becomes a pressure that you need to do a few acquisitions. We're not in that position, we don't need to feed the beast. We're in a happy place with most of our underwriters.
"We don't have that requirement to do an acquisition, so from our point of view, an acquisition would have to make sense on its own - it would have to be EBITDA enhancing."
Keen on smaller brokers
However, on the acquisition front, Blanc says he's still keen on smaller brokers. "They know their game and client service, and they represent the very best of what the industry does, but financially it does not work for the underwriters to look after these guys.
"So they're going to have to find a home over the course of the next few years, and we need to be alive as to whether we can provide a home for them," he says.
Acquisitions of small brokers will not be the main driver of growth - that will be done organically. There's no magic formula, says Blanc: just concentrate on good service to clients and the rest will follow.
Ideally, Blanc would like to take EBITDA from £18m to £30m in five years' time. "I think Caledonia [Oval's private equity backers] and all our shareholders would be
absolutely delighted."
THE MAN
Age: 41
First job: Broker
Family: Married, father of three
Interests: Rugby, football, squash, fatherhood
In his own words:
The consolidator bit was yesterday's story'
THE COMPANY
EBITDA (31 March): £18m
Employees: 1,200
Market view: While one of the large independent brokers, Oval has halted big acquisitions. The company is adept at winning SME and mid-corporate business. Many expected Oval to be an acquisition target for the nationals such as Marsh and Aon.