Unrated insurers take 12% of the market as the SRA starts consultation on banning them
QBE is now the top provider of solicitors' professional indemnity (PI) insurance after XL cut capacity in the market, according to data released by the Solicitors Regulation Authority (SRA).
QBE wrote gross written premium (GWP) of £35.8m for the 2013/14 renewal period, giving it a market share of 14%. This is up from £26.1m GWP and a 10.9% market share in 2012/13.
AmTrust Europe entered the top 10 providers (see graph, below) with GWP of £17m and a market share of 6.7%. This is up from just a 0.2% share in 2012/13 and comes after the insurer swooped to help uninsured solicitors gain cover before the renewal date, as reported by Insurance Times in October.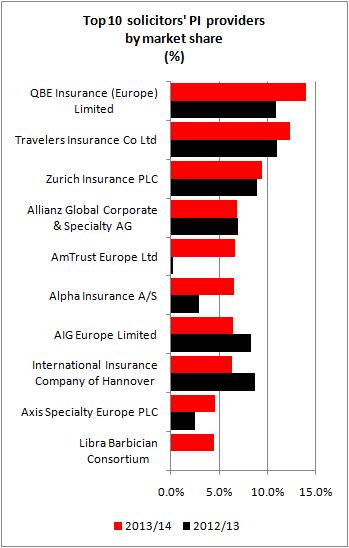 Unrated insurers
Alpha Insurance was the only unrated insurer in the list of top 10 providers with a 6.5% market share following the collapse of Balva last year, when it had a 6.9% share of the market and GWP of £16.5m
This means that unrated insurers now make up 12.2% of the solicitors' PI market, with GWP of £31.2m (see graph, below).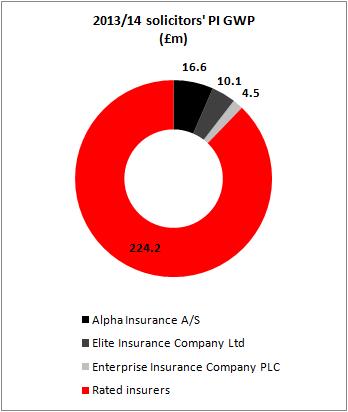 The news comes as the SRA announces it has started its consultation today over plans to ban unrated insurers from providing PI to law firms.
The regulator wants all insurers applying to be added to the participating insurers list to have a financial strength rating of at least B from a recognised rating agency.
This move has been prompted by the insolvency of several unrated insurers, including Balva, Berliner and Lemma. Additionally, a report by Marsh found that the protection offered by unrated insurers and rated insurers may not be the same – even though the policy wording is.
The SRA said the increasing reliance on the Financial Services Compensation Levy is also a cause of concern for the UK's financial regulators, who have urged the SRA to address the risks associated with unrated insurers.
Market exits
In the past five years, 15 insurers have exited the market for solicitors' PI insurance out of a total pool of 37. Of these, 11 were rated and four unrated.
In the same period, there have been two regulatory interventions and two insolvencies among participating insurers, all related to unrated insurers.
The regulator said that there is no material difference between the degree of staff losses of rated (39%) against unrated insurers (37.5%).
But it added the exit by unrated insurers is far more likely to be "unplanned" and related to financial difficulties compared with exits by rated insurers.
SRA director of policy and strategy Agnieszka Scott said: "We have always resisted calls to insist that insurers have a rating. Recent events such as the growth of unrated insurers in the market and higher risks of insolvency have made us consider this afresh.
"Our overriding objective is to ensure appropriate protection for consumers without driving unnecessary costs on law firms. This consultation will assist us in striking that balance."
The consultation will last for eight weeks until 24 March.