Managing director of Gallagher's MGA on why insurance is a truly exciting place to be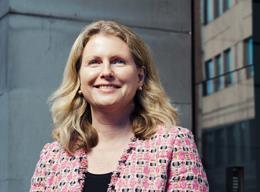 Sian Fisher had just rubbed shoulders with some of the best and the brightest of America's business talent during her 2004 MBA at Harvard, a place where companies like Nike and Apple send their future leaders.
"Weren't you embarrassed, representing the insurance industry?" a friend later asked. "I have never been embarrassed by insurance," Fisher replied, explaining how her love of 19th century social literature, dominated by great figures such as Dickens and Brontë, taught her that humanity was a dark place without insurance to cushion the blows of everyday life.
It was a response typical of Fisher, showing her self-assuredness and a cool head, qualities that have taken her far. As managing director of AJG Underwriting, she's a key part of Gallagher's ambitious plans to expand its empire in the UK.
She's also central to the CII's plans to raise standards throughout the industry. AJG, Gallagher's managing general agency arm, hit the headlines in Insurance Times recently after it emerged that an underwriting team from Canopius will soon be joining, but more of that later.
Winding route to the top
It's her first interview with Insurance Times, so let's start with a bit of background on Fisher's colourful journey to the top. Like so many others uncertain of their path, Oxford University law graduate Fisher fell into insurance. After a brief spell at Bowrings, now Marsh, she joined Hiscox working on the professions account. She worked her way up to underwriting officer and in 2001 became managing director of Hiscox Insurance Company, a high net worth specialist.
Hiscox was formed after the acquisition of Peter Cullum's company, Economic Insurance. For a brief spell, Fisher worked with two insurance grandees, Cullum and Hiscox. It's well known there was a personality clash between the two giants; after serving out his contract with Hiscox, Cullum went on to set up Towergate.
Fisher, who had a bird's eye view of events, doesn't take sides, but says she learned an important lesson. "Often when you make an acquisition, you have two entities in the same industry but their take is very different, and they're often talking at each other without necessarily actually hearing what the other side is saying. Hiscox came from product history and Peter's great mantra was 'distribution, distribution, distribution'."
After three years, Fisher left for the MBA. During the six-month course, she was approached by Nigel Barton to set up a new business, Oxygen, and head its managing general agency arm, Oxygen Insurance Management (OIM).
Just three years later, in 2007, Gallagher made a swoop for Oxygen. Fisher was keen for the deal to go through as she could link OIM up to Gallagher's claims handling arm, Gallagher Bassett, and its India-based administration firm, GOSSPL.
OIM's bread and butter is distribution of capacity to MGAs and schemes brokers across the UK that deal with personal lines and the lower end of SME. OIM also contains Woodbrook Underwriting Agencies, a Gallagher acquisition in 2007. It trades under the name of AJG Underwriting, handling about £200m in premium. AJG Underwriting was one of the deal-clinchers in Gallagher's decision to buy Heath Lambert for £97m last year. It has a personal lines team that helps the old Heath Lambert personal lines, now called Gallagher Heath Insurance Services (GHIS), place difficult business. GHIS also has an Essex-based commercial lines team and AJG Underwriting works with it on affinities and scheme-related business.
Big ambitions
More broadly, AJG could become an important part in Gallagher's international expansion plans. "There is absolutely nothing to stop us doing business in other parts of the world and obviously that is something that we are looking at," she says.
Fisher is ambitious and those ambitions were recently highlighted when several underwriters from Canopius joined AJG. Eyebrows were raised, as was an obvious question: if AJG is taking teams from insurers, how will they feel about Gallagher's wholesale broking arm placing business with them?
As it happens, Gallagher did place broker business into Canopius. But Fisher says the arrangement has worked out well as the underwriters intended to leave Canopius anyway. An arrangement means Canopius will continue to enjoy some of the profits as it will provide the capacity to AJG Underwriting.
She says: "It was obvious they were going to move. As things worked out, they moved to us, and because of our model we've been able to give the relevant proportion back. Whereas, had they had gone somewhere else - if they had gone to another insurer - that business would have been lost altogether."
On the board
It's quite an achievement that Fisher finds time for her other roles at the Chartered Insurance Institute and the Managing General Agents' Association (MGAA). She is on the board of the former and had a major part in shaping its exam framework.
Fisher says the CII was a mess before Sandy Scott took over. "He inherited a ramshackle organisation, a very crony kind of organisation. He has shaken it to its very hair follicles and turned it into a professional standards body to the extent that now the CII, in terms of working with the FSA and the government, is probably more vocal and better respected than the ABI."
Fisher's also one of the founders of the MGAA and asked Reg Brown to lead it. "He used his profile and his success to the wider benefit of the market in general, and I respected that," she says.
Driven by impatience
So what is it that drives Fisher to get involved with these bodies? She thinks for a moment and says rather candidly: "I think its impatience … if I see something that is obviously stupid … I don't like things that aren't right."
While passionate about the industry, Fisher is keen not to be seen to be going over the top. Still, she enthuses: "The core of the industry is the management and assessment of risk and if you wanted an exciting career, how could it be much more exciting, really, than being involved in this? If you spend your life going out to oil rigs and working out what to do with them when they're burning, and there's hundreds of millions of dollars involved, that's pretty exciting, isn't it?"
Embarrassed by insurance? Not a chance.
Snapshot: The woman
Age: 48
Hometown: London
First job: Graduate trainee, CT Bowring Reinsurance
Interests: Travel, art, education and training charities, and professional bodies
In her own words: 'I don't like things that aren't right'
The company
GWP: £200m
Employees: 65
Market view: AJG Underwriting doesn't quite have the profile of its larger rival in Towergate Underwriting, but it has gone about its business in a very focused and effective way.