Pirate attacks on shipping off the Somalian coast have been costly for insurers and ship owners in recent years. Insurance Times examines the state of the problem and the possible ways forward for the industry.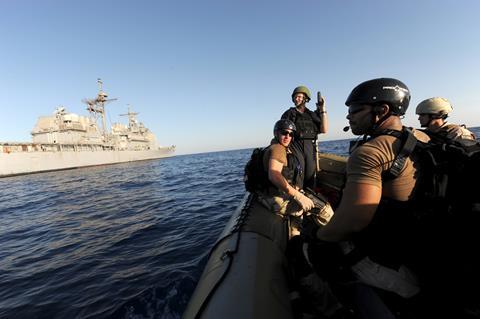 Somalian piracy appears to be a problem with few solutions. Insurers, ship owners and the world's navies have experienced a high rate of pirate attacks in recent years, and endured higher ransom demands, soaring shipping premiums and bolder pirate attacks that strike further and further off the Somalian coast.
The problem started in 1991, when civil war broke out in Somalia, and effective government collapsed. This, combined with the rapid decline of the traditional fishing industry due to overfishing, resulted in many Somalians turning to piracy for a source of income.
Somalian piracy affects insurers by increasing the number of kidnap and ransom, protection and indemnity, marine hull and marine cargo claims.
Last year, Somalian pirates attacked 237 ships and hijacked 28, according to data from the One Earth Future foundation. However, in the first half of this year, only 69 incidents involving Somalian pirates were recorded, compared with 163 in the same period last year, according to International Maritime Bureau data.
Levels of piracy have fallen thanks to the work of European navies, and the use of private armed guards and private security companies, according to trade body Security Association for theMaritime Industry security director Peter Cook. However, Cook warns that piracy can never be wiped out despite the temporary drop in pirate attacks. He says: "It ebbs and flows, but I don't think it will ever be eradicated completely, in the same way that you can never completely eradicate crime in a city area."
Willis arm Special Contingency Risks' head of intelligence Tim Holt agrees that piracy is still prevalent, and says that the practice brings in about £123m a year.
Holt explains: "As pirate financiers invest more and more in the success of their operations, lucrative opportunities for local business have vastly expanded. A $4m ransom will be injected back into the local economy, benefiting a community that once lived in abject poverty. There is little wonder why the practice has boomed when Somali per capita income is $600 and a minimum $10,000 is available for each perpetrator of a successful operation."
Holt adds that Somalia's two main pirate gangs are still active, and the pirates have been adapting to make more money. He says: "There has been a recent acceleration in kidnap for ransom on land of aid workers and tourists, who are then transferred to the coast for ransom negotiations. Some pirates have even begun to offer their services as 'counter piracy' and 'negotiation' experts."
The systematic misappropriation, embezzlement and outright theft of public resources have become a system of governance'

UN report
Potential solutions
So, what are the solutions? One mooted answer has been the convoy escort programme (CEP), a JLT initiative that plans to supply armed patrol boats to escort ships through high-risk areas, with insurers supplying the cover for vessels.
Marketform and Ascot recently signed up to the CEP, and RSA is considering backing the scheme. CEP chairman Sean Woolerson says that there was a further "groundswell of support" for the scheme from more insurers.
But the CEP has already run into problems. The scheme was due to launch this December, but chief executive Angus Campbell says the programme could overrun this date. "The escort route wasn't taking into account the high-risk areas that owners are concerned about, mainly the southern Red Sea and going a little bit further towards Oman than the end of the internationally recommended transit corridor."
Another solution is EU NAVFOR Atalanta, the EU battleship fleet that escorts vessels through the waters off Somalia. The fleet has done well, including fighting off all pirate attacks againstWorld Food Programme aid ships going to Africa since 2005 and attacking pirate bases on the shore. But the navy is responsible for covering a four million square mile area of ocean, and is thinly stretched.
A third solution is for ship owners to protect their vessels against attack themselves. This is known as ship hardening, and can be done by fitting barbed wire, water cannons, and welding doors shut in an attempt to reduce the likelihood of a hijack. This is a deterrent, but Cook says that the method has limited effectiveness.
He says: "Pirates are ingenious. They will always find a way around the problem, and if they discover that a ship is not particularly well protected, they will find a way to overcome it."
The new Somalian government, which came into power in 2004, has also created a coast guard, as has the semi-independent Somalian Puntland region. However, Holt says there is little evidence of success due to limited training and resources.
Root of the issue
The only long-term solution is to fix the root of the problem, which is Somalia itself. The government has already started clamping down on pirate attacks, according to an EU NAVFOR spokesman.
However, a recent UN report says that "the systematic misappropriation, embezzlement and outright theft of public resources have become a system of governance" in Somalia. Holt says that until the Somalian government becomes stable, the rest of the world will be forced to limit the cost of piracy at sea.
The public and private sectors have made several suggestions to reduce the effects of Somalian piracy. However, the problem is unlikely to be resolved soon, leaving shipowners and insurers hoping that the end of the main monsoon season in September will not lead to an increase in attacks and hijackings.
Pirate tactics
Somalian pirates are ingenious and have worked out several ways to board vessels, thereby maximising their chances of a successful attack. Here are three of the most common methods pirates use to raid shipping.
Talking points …
Can the Somalian government restore order to the region and crack down on pirate attacks?
What impact will the various anti-piracy solutions have without this?
Will Somalian pirate attacks in 2012 match the level and ferocity of past years?