Repatriating some activities for business reasons can reduce geopolitical threats to a stretched supply chain, but it won't help avoid reputational risks closer to home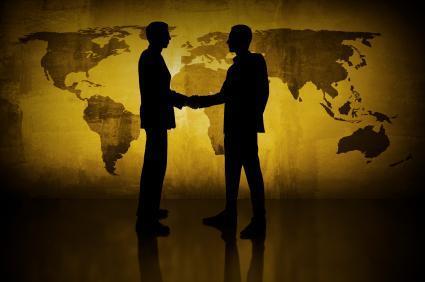 The increased globalisation and complexity of supply chains is a key factor behind the rising risk of disruption. But outsourcing to other countries – particularly those in the developing world – presents business risks, not least of which is disaster preparedness.
If suppliers are based in countries that are prone to natural catastrophes, the likelihood of being affected by windstorms, earthquakes and floods is inevitably greater.
Shifting shores
The antithesis to outsourcing is on-shoring – or re-shoring. It is a trend that has been gaining pace in the UK, research shows.
Nearly two-thirds of 384 non-financial services companies operating in the eurozone said they had re-shored some activities in the past 12 months, according to PwC research. And the single biggest focus for re-shoring is production-related activity.
New priorities
The re-shoring trend looks set to continue. Almost half of PwC's respondents said they plan to re-shore business activities over the next 12 months, with re-shoring of production from outside Europe ranking as a high priority.
In the UK, 70% of the automotive sector plans to move some manufacturing back to the UK over the next two years, according to research by Lloyds Bank, which will create about 50,000 new jobs.
Almost half (45%) of auto manufacturers surveyed said they had already repatriated, on average, one-fifth (20%) of their production.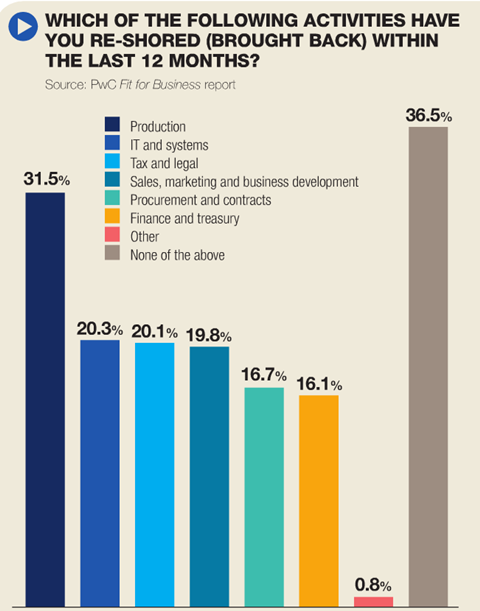 Businesses cited cost and time reduction, the improving UK economy and the desire to support local communities as reasons for their decision.
It is these economic drivers, rather than concerns over supply chain risk, that are more likely to be behind the on-shoring trend, said former Business Continuity Institute technical director Lyndon Bird.
"The reason the Americans have taken an enormous amount of their manufacturing back onshore is because their energy is cheap, not because they've decided it was too risky to have it offshore," he says.
Commercial decision
"So a lot of the trends, like re-shoring and bringing call centres back to the domestic country, are because of the commercial and marketing advantages rather than necessarily because of risk management decisions."
Another reason to repatriate manufacturing back to the UK could be the rising cost of labour in China, particularly in coastal areas like Shenzhen. Some companies have already shifted their facilities further inland, or left China for Vietnam, Cambodia or (in the case of textiles) Bangladesh.
Cutting the risk
While such economic drivers may take priority when opting to on-shore versus off-shore, less supply chain interruption may be a welcome side effect.
Polestar UK Print group risk manager Gary Marshall says: "I have seen recent quotes where products are made in the UK, which previously would have been seen as ideal candidates for being manufactured elsewhere.
"The view seems to be 'we can wrap this up into a comparable purchase' … and perhaps also have the security of not having to worry about transport or if there's a natural disaster waiting to happen."