Aggregators and brokers fight it out in a battle for the customer
Aggregators are the biggest story in motor distribution, in personal and increasingly in commercial lines. They have revolutionised the way individuals buy motor insurance, increasing price sensitivity and decreasing brand loyalty. They have also seriously impacted the profitability of this line of business, by reducing repeat business and introducing new opportunities for application fraud.
Yet, given their popularity with customers, aggregators are quite clearly here to stay. They are quickly becoming more sophisticated in detecting fraud and applying other technologies. Their might is dependent upon multimillion-pound marketing campaigns – the meerkat and the opera singer are now household names.
Brokers could never hope to develop such high public profiles, and many have acknowledged this by placing their brands on the aggregators, or even developing new brands to sit on the sites. As the aggregator market matures, brokers and insurers are likely to get more canny about which ones they play on, and with what brands.
Expect aggregators to break into commercial lines shortly. While their presence has so far been limited to vans, a number are exploring fleet operations and will move soon. Still, at the larger end of the market, there is a limit to how far the direct players and aggregators can really penetrate. For complex commercial risks, brokers will still have their space.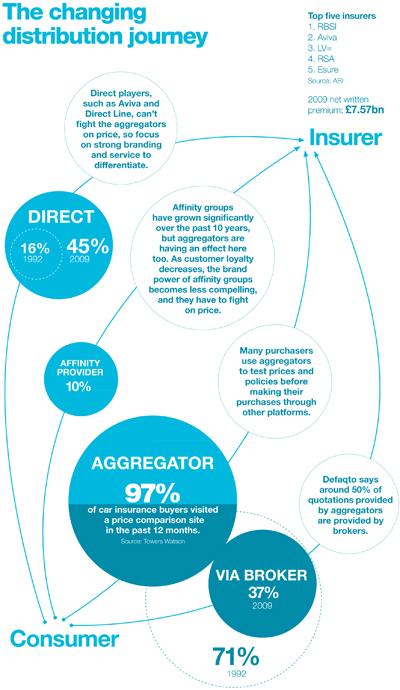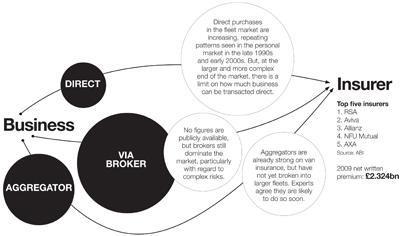 The people moving the market
Peter Wood: The legendary founder of Direct Line and Esure single-handedly transformed the motor market. His rallying cry to "cut out the middle man" revolutionised the nation's buying habits with the launch of Direct Line in the 1990s. Since then, direct insurance has become the norm, with 45% of transactions unintermediated.
Henry Engelhardt: The founder and chief executive of Admiral has been the only man who knew how to make money in motor over the past two years. Admiral, the darling of the stock market, has somehow managed to buck the trend and consistently deliver profits. Everyone wants to know how – but Engelhardt's not telling.
Hayley Parsons: An early convert to the might of the aggregators, Parsons founded Gocompare after a stint at Confused.com. Earlier this month, she reported a 35% increase in pre-tax profit to £29.9m, and a record dividend of nearly £12m. Her site remains at the top of the market.
Barry Smith: Ageas UK chief executive Barry Smith is one man who clearly sees the importance of distribution in the motor market. The insurer has recently acquired motor brokers Castle Cover and Kwik-Fit, to add to its existing stable, and is implementing a massive affinity deal with Tesco.
The changing customer profile
The introduction of direct insurers and then of aggregators has revolutionised the behaviour of the motor insurance buying public.
Once loyal to their brokers, customers are now willing to move every year for the sake of saving just a few pounds. Few customers are willing to pay for service, and the best way to make money in the motor market is to cross-sell add-ons, rather than rely on underwriting.
Even those purchasers who do not wish to buy from an aggregator often use them for an initial 'price check' – meaning that every customer is price conscious and aware of what they can get elsewhere.
This puts huge pressure on prices in the market and creates a problem for insurers – why invest in customer acquisition when the customer is almost certain to move on in 12 months?