But other neck and back injuries surge almost 300%
The number of whiplash claims is falling, according to government figures, but claims for other back and neck injuries are on the increase.
The figures were published in a report from the Home Office Transport Committee, Cost of motor insurance: whiplash: Further Government Response to the Committee's Fourth Report of Session 2013–14.
In the 2012/13 financial year the Department for Work and Pensions (DWP) Compensation Recovery Unit received 477,257 claims for whiplash injuries, compared with 482,497 in 2008/09 – a decrease of 10%.
However, the number of reported back injuries has climbed more than 185% to 38,323 from 13,410 in 2008/09. Over the same period, non-whiplash neck injuries have increased by almost 200% to 232,960 from 78,407 (see below).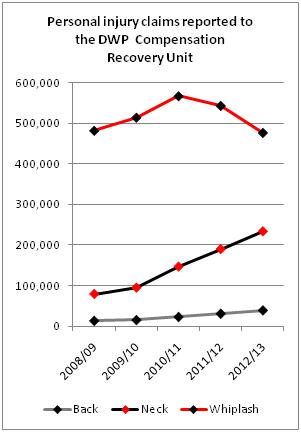 But the figures may be hiding an increase in claims that have traditionally been labelled as whiplash injuries, with the report citing claims-reclassification as a possible reason for the decline in whiplash claims brought to the DWP.
"Over the past five years, claims for neck and back injuries have almost trebled to around 270,000 claims in 2012/13," the report said. "It may be that a change in claims-labelling behaviour is behind this trend, such that a large volume of claims which would have been labelled as 'whiplash' are now instead being labelled as 'back or neck' injuries."