It is in response to the government's budget plans to build 300,000 new homes a year by the mid-2020s
The Association of British Insurers (ABI) is urging the government to take steps to reduce threats to property as it goes ahead with budget plans to build 300,000 homes a year by the mid-2020s.
According to the ABI, insurers pay out £13m every day for homes and businesses which have suffered damage and loss.
It also says the industry is committed to efforts to reduce the chances of customers having to claim in the first place.
ABI's James Dalton had already said that "tackling the rising costs of escape of water claims must be a key priority" for 2018.
So in response to the plans to build 300,000 homes per year, the ABI has released its 'Buildings Blueprint' to reduce fire and flood risk.
It has ten policy priorities to make all properties less vulnerable to the main threats of fire and weather, which between them account for around 50% of all claims in terms of cost, according to the ABI.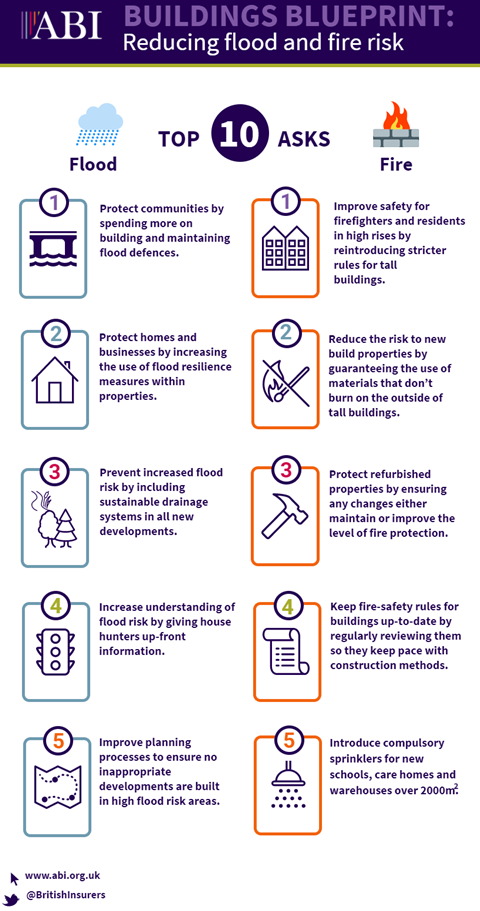 Laura Hughes, senior policy adviser for general insurance at the ABI said: "Insurance is there when the worst happens, to fix your home or to help keep your business afloat after damage. But it's better for everyone if major floods and fires can be minimised or prevented entirely.
"Environmental changes mean the risk of flooding is growing for many parts of the UK, and this year has brought us a stark reminder of the worst that fire can do. As it embarks on an ambitious building plan for homes, it is important the government has a firm eye on the steps it should be taking to help all properties, including businesses, be more resilient in the face of these threats."