Figures show homes are still being built in flood risk areas despite Environment Agency objections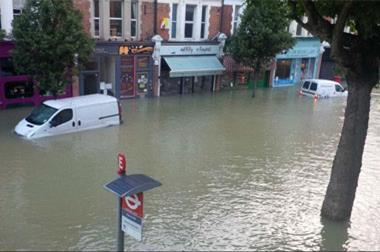 The ABI has criticised the decision by planning chiefs to approve the building of new homes where the Environment Agency has raised objections because of the risk of flooding.
More than 1,200 residential properties have been given a green-light after flood risk advice from the agency was overruled or partially overruled in the five years since 2011/12,
The 1,228 "residential units" approved by planners are only a tiny percentage of nearly 316,000 properties contained in decision notices where the Environment Agency raised objections, the i reports.
Local councils followed the agency's advice in planning more than 99% of new homes.
The Environment Agency's figures show that it has raised objections on flood risk grounds in more than 14,000 planning applications since 2011/12. Of those where a decision is known, the agency's objections have been overruled or partially overruled on 330 occasions.
Many of the properties were in Flood Zone 3 – the highest level of flood risk, including several where there was a concern over risk to life or property, or the development was next to a watercourse or flood defences.
But local councils say they take great care when considering planning applications and planners need to be reassured that adequate flood defences are in place for any homes built on floodplains.
ABI head of property Mark Shepherd said: "Flooding doesn't just ruin homes and belongings, it's a heart-breaking and traumatic experience for people to go through.
"The UK needs more housing, but to build new properties where there is a significant risk of flooding simply stores up problems for the future. We want to see an end to all inappropriate development in areas of high-flood risk."