Billionaire investor says AIG must be carved up as soon as possible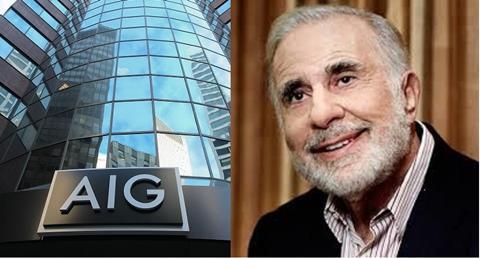 Billionaire investor Carl Icahn tody launched a renewed attack on AIG, saying the only sensible option was a break up.
Icahn sent a letter to the AIG board today, in which he said: "There is only one sensible path for AIG to follow: become a smaller, simpler company with a path to de-SIFI."
The investor also said that the crediblity of the AIG management had 'all but gone'.
Icahn has been emboldened by the news that MetLife is seeking to divest itself of a big part of its US insurance arm.
MetLife believes this will ease some of the capital burden it is expected to face under new regulations that label it as a systemically important financial institution, or SIFI
Icahn has invested some of his $30bn fortune in snapping up a 3.4% stake in AIG.
Icahn proposes splitting the group into general insurance, health and life insurance and mortgage insurance.
The 79-year-old believes splitting up AIG would help the company throw off its regulatory shackles, freeing up money that would otherwise be spent on its expensive regulatory structure.
The money could then be pocketed by shareholders.
The idea is rejected by chief executive Peter Hancock who is fighting to convince the board that the US insurer remains well-equipped as a complete business.
Hancock has already led a purge of senior management as the US insurer comes under fire for having too high a cost structure amid falling premium rates.
Hancock aims to save between $500m and $600m a year through clearing out 23% of the insurer's 1,400 senior managers.
He will provide an update on January 26 on the firm's strategic direction.
So far Hancock has been keen to distance himself from Icahn and instead, impress the importance of AIG being focused on driving growth across Japan, USA and the UK.
It has its strategic goals of returning excess capital to shareholders and using its data to improve the customer offering.
Hancock said at the end of last year: "Our new management structure will ensure we have strong end-to-end accountability within the customer segments, so we can transform into a more efficient, less complex organization with accelerated decision-making in response to our clients' needs."