AXA revises its claims strategy as it aims to move from "payer to partner" and introduces new data tool that lets anyone check risks in their area
AXA has introduced a new online tool called Give Data Back as part of a move to change its image from "payer to partner". The new strategy will target claims, which represents over 60% of its revenue.
AXA head of P&C and claims transformation Virginie Babinet said that AXA is looking to transform its digital customer experience and it is using a "goldmine" of data to do so. It is also targeting changes and selective growth in fraud, recovery detection and wreckage to drive efficiency and margins.
"For a lot of people we are just there to pay [in the event of a claim]," Virginie Babinet told delegates at Guidewire Connections 2017. "We need to change this." Babinet said that customer interactions were only happening once every seven years and this needed to be addressed.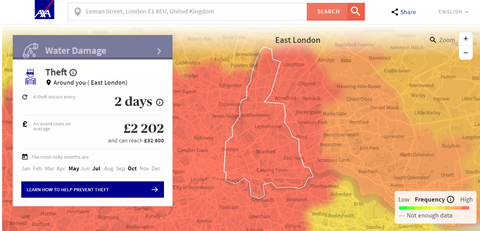 Reported thefts in East London (surrounding Leman Street)
Source: GiveDataBack.AXA
She continued, "We want to have more interactions. We should go beyond the claims compensation so it's not only financial interaction [with the customer]. We wanted a way to interact in the future to take care of the customer before and after the claim. "
AXA aims to mitigate risk and build trust by putting prevention tool Give Data Back in the hands of web users. It will allow anyone to check the frequency of theft and water damage. It currently covers Belgium, France, Germany, Italy, Spain, Switzerland and the UK. The tool's launch precedes the enforcement of the EU's General Data Protection Regulation (GDPR) next May.
In the example pictured above, the tool says there a theft is reported every two days in the area surrounding Leman Street in London (where Insurance Times HQ is based). The average cost per theft is £2,202 (though it can reach £32,600). The team might want to watch their backs in May, July and October, as thefts are most frequent then.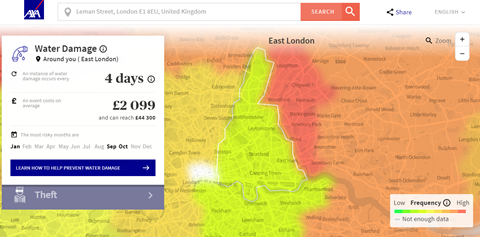 Reported instances of water damage in East London (surrounding Leman Street)
Source: GiveDataBack.AXA
The website offers tips on how to prevent theft or water damage, and allows users to submit advice.
Babinet also spoke about the AXA's experience so far with chatbots and the customer relationship: "I do not think chatbots are a solution for everything. We have to be careful because it is a human [trying to interact with AXA], but there are some cases when a chatbot could easily be used." She gave the example of a boat-owner checking whether they are covered to take their boat out over a certain wind speed. This kind of simple response, Babinet says, can easily be automated. However, for now, an element of choice and the human touch needs to remain.