Watch live coverage from Biba 2012 in Manchester on insurancetimes.co.uk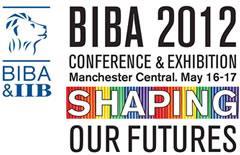 The 2012 British Insurance Brokers' Association (Biba) conference opens today at the Manchester Central.
This year's conference, titled 'Shaping our futures,' will be opened at 10am by Biba chief executive Eric Galbraith and chairman Andy Homer, followed by keynote speaker Andrew Marr. The exhibition opens at 8.30am.
The closing keynote session on Thursday will be delivered by Sir Tim Berners-Lee, the founder of the internet.
To read the full two-day event programme click here.
Don't miss Insurance Times's coverage of Biba 2012, including live interviews and discussions with insurance industry executives and regular updates from the Insurance Times team. To watch, visit: www.insurancetimes.co.uk/bibalive
Live schedule:
09.45) Live news meeting
Hosted by editor-in chief Ellen Bennett and head of content Saxon East; accompanied by Nick Houghton, managing director of Broker Network & Ashwin Mistry, chairman of Brokerbility. Our panel will set the news agenda for the Biba conference.
11.15) Broker M&A in 2012: the deals we've seen so far; rest of the year
Mark Hodges, Towergate
Ian Clarke, Deloitte
Stuart Randall, Ataraxia
13.45) Regulation – ancillary products and client money; what it means for brokers
Steve White, head of compliance and training, Biba
James Sharpe, business development director, Ten Insurance
Greg Carter, director of Client Services, Capita
Broker Mind
15.45) Commercial market – when will rates harden?
Chris Hanks, Allianz
Phil Barton, Jelf
Jonathan Davey, Keychoice Underwriting
17:00) Insurance Times's review of the day
Stay tuned throughout the day for more live interviews