Curt Paul Gorog ordered to pay £35,000 in legal fees after video shows him doing a press-up challenge when he claimed to have a back injury
A man who claimed a back injury left him unable to work in order to fraudulently claim a £150,000 personal injury award has been ordered to pay £35,000 in legal fees.
Curt Paul Gorog was found by a court to have lied to QBE Insurance and the Department for Work and Pensions (DWP) about the extent of an alleged back injury he suffered in November 2012.
He claimed it made him unfit to work, but evidence and surveillance footage revealed that he could complete a press up challenge with a child on his back and lift substantial weights in the gym.
Evidence also revealed that he attempted to evade the police after a high-speed car chase in West Yorkshire in March 2015, where he leapt over a hedge after throwing drugs and a mobile telephone from the car window and was chased across a field by a police officer.
At the hearing in Manchester, Gorog was questioned about his large number of previous whiplash and personal injury claims for which he received thousands of pounds in damages. He was also questioned about attending benefits assessments in a wheelchair as late as March 2016, and receiving more than £50,000 in benefit payments.
He was also asked about a conviction for assault in February 2015, being attacked with a baseball bat, social media evidence including a video uploaded in August 2016 showing him doing 22 press-ups with a child on his back, and gym surveillance footage on the 15 March 2017 showing his vigorous weightlifting routines.
When asked about his muscular physique in court, Gorog stated it was due to "potential" and "good genetics".
HHJ Hudson said Gorog, who sought a payout of more than £150,000 in damages, was extremely misleading about his claims, having lied about his current and ongoing position for several years.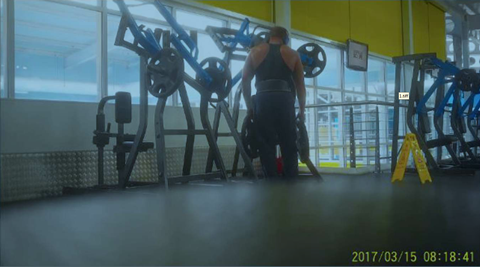 According to the judge, Gorog had used a wheelchair to "trick" the DWP into granting him benefits to which he was not entitled.
Paul Holmes, DWF partner and head of DWF casualty fraud, said: "The more we and our clients looked into Curt Paul Gorog, the more concerned we became. Here was a man claiming he could not work, and even attending benefits assessments in a wheelchair.
"However, he was involved in criminal acts and attempting to escape from police when supposedly incapacitated, and was filmed in the gym lifting very heavy weights.
"Gorog now has a judgment against him for £35,000 he owes our client. We will also be raising this case with the relevant authorities. Gorog thought he could walk away when faced with the evidence, but our clients would not allow that to happen.
"Our clients are determined not to allow fraudsters to walk away without penalty as this behaviour affects the premiums of honest policyholders."
Complex Loss Investigator, Neil Hanson, at Cunningham Lindsey t/a Sedgwick, stated: "We are very pleased with this outcome. It really demonstrates the great teamwork by Insurers and their professional advisors in tackling insurance fraud.
"The decision indicates a strong stance against fraud and that is now taken by Insurance Companies and the Courts to cooperate and address the threat of fraudulent claims."