Software created by Kamran Mahmoudzadeh after his son's motoring death has helped make young drivers safer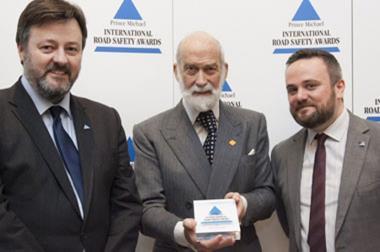 It was the worst day of his life.
When the police came to Kamran Mahmoudzadeh's door on that fateful day of 1 January 2007 to tell him that his 18-year-old son Anoush had died in a car accident, his worst fears were realised.
Later that month at Anoush's funeral, attended by 200 people, Mahmoudzadeh decided to embark on a mission to help reduce the number of accidents involving young people.
Mahmoudzadeh said: "To have so many people at the funeral – it made me very proud to be his father. I said to myself: 'If my 18-year-old can make such a difference in a short time, I can also make a difference to society'."
In 2009 he left his job as telematics technical director at vehicle tracking technology firm BOX and moved to Trak Global, which supplies telematics to the insurance and car rental industries.
International safety award
A year later, inspired by Mahmoudzadeh's story and telematics expertise, Trak Global co-founder Nick Corrie set up sister company Carrot Insurance.
With an insurance background, Corrie also saw an opportunity to use the telematics software that Mahmoudzadeh had developed to change the way that young drivers interacted with their insurance provider and help them to see the benefits of driving safely.
Fast-forward five years and Carrot's i-box software has been recognised internationally for its achievements.
On 8 December Carrot Insurance received the International Road Safety Award from Prince Michael of Kent (see picture above).
The award recognises outstanding achievement and innovation worldwide by those that have made a demonstrable impact on road safety standards.
The telematics broker was commended for incentivising young and newly qualified drivers to use their cars more safely in return for rewards.
In the year to December 2015, 42% fewer accidents had occurred among Carrot's policyholders compared with a market average of similar insurance products that did not use telematics.
"To know that we reduced accidents using technology that we developed over many years and that we helped young drivers to learn better driving behaviour is a very good feeling," chief technology officer Mahmoudzadeh said.
Carrot, not stick
So how does the technology work?
When Corrie and Trak Global commercial director Alan Cottrill met Mahmoudzadeh they wanted to design a device that could detect accidents and help insurers to react faster.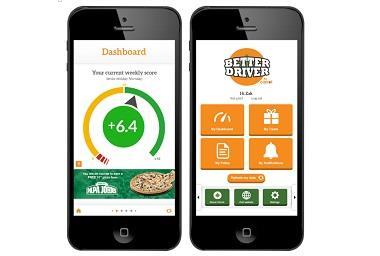 That technology has evolved to score people on how they drive. It can also help to determine who is at fault after an accident.
The software, which can be downloaded as an app to a smartphone or installed in a vehicle's black box, uses GPS tracking and accelerometers to record data, while the algorithm rewards young people at renewal, typically in the form of cash, vouchers or discounts on their policies.
Wrapped around the technology is a reward card system, which adds points for good driving.
Carrot also has a dedicated driver risk management team. Using the data, the team can spot drivers at significant risk of having an accident. They will then contact the young policyholders to get them to improve their driving habits.
Corrie said: "It is a positive way to engage with young people. It means if they drive well, safely and considerately, they get money, and it has worked."
The main differences between the smartphone and the black box is that the box is not susceptible to human interference as the smartphone is, while the smartphone app is much cheaper to install.
Engaging with young drivers
Corrie said Carrot was born out of frustration that it could not persuade many insurers to use the driver scoring and crash detection technology or the risk management service.
"We set up Carrot to build our own distribution route," Corrie adds. "What Kam's terrible experience provided was a moral compass for us to understand a little about the consequences of bad behaviour on the road.
"If we could change people's behaviour on the road, then they would crash less; and if they crash less, there is a benefit on an economic and human level."
There are a variety of telematics firms in the market, but Corrie said Carrot's differentiator is its engagement with young drivers and how it rewards good driving behaviour.
To date the broker has supplied more than 150,000 i-boxes. It has also attracted a number of insurer partners, including Zurich, Collingwood and RSA's More Than brand.
Corrie said: "From a business perspective, there is a nice element to this story because insurers are buying it in droves.
"But ultimately, there is a human story in this. As every kid drives around sensibly, 42% of the time there are fewer accidents."
Corrie said methods used by some firms that penalise young people for driving badly are counter-intuitive.
In 2013 Towergate made the headlines after a teenage driver and his passenger died while racing home to beat the curfew set by the Towergate Smart telematics box in the car.
At the time Coroner David Dooley voiced his "real concern of future deaths" over rules which he said "incentivised" young drivers to speed to beat the curfew.
Government support
Corrie said that more can be done to improve the driving behaviour of young people and further reduce the risk them in accidents.
For example, if the government offered young drivers with less than two years' experience a tax break for using a telematics box, it would give them an incentive to drive more safely and increase the number of young people using telematics, he added.
As connected cars become the norm, ultimately the box will disappear.
But Mahmoudzeh said Carrot's winning formula will focus mainly on developing its technology and risk management strategy.