With its combination of strong assets and low running costs, the Lloyd's insurer has been pursued by everybody from Brit to Vladimir Putin. Now Guy Hands' Terra Firma looks set to pounce
Guy Hands may not have won many admirers at Citigroup recently, with the drawn-out battle over music company EMI finally coming to an end at the beginning of this month. But even the most disgruntled banker would stop short of comparing the Terra Firma chairman to Vladimir Putin, former KGB man and apparent Russian executive-for-life.
And yet the two men do seem to have one thing in common: their taste in insurance companies. Hands bounced back from the EMI debacle to announce an interest in taking over Lloyd's insurer Chaucer earlier this month. In December, Putin reportedly stepped in to throw his weight behind Russian private equity house Pamplona's bid for a 29.9% stake in the same company, which has been thwarted by the FSA's refusal to approve it.
Hands and Pamplona aren't the only ones sniffing around. Goldman Sachs Private Equity and US private equity firm TPG reportedly checked out Chaucer last year, while in 2009 the Lime Street bars were ablaze with gossip on how first Novae and then Brit were wooing the company. Both eventually fell through and the jury's still out on whether Terra Firma will join them. Either way, the giddy interest has many in the market asking: why is Chaucer so attractive as a takeover target?
The short answer …
"It's cheap," explains Panmure Gordon analyst Barry Cornes. "It's one of the cheapest in the Lloyd's-based sector." Before the Terra Firma buzz bounced the share price up to 66p, Chaucer was trading at around 52p, below its 2011 year-end tangible asset value of between 53p and 58p. With Hiscox trading at 1.3 times its book value, says Cornes, many see Chaucer as a bargain.
Analysts have spotted several bargains in Lloyd's recently. Before private equity house Apollo expressed an interest, Brit was trading at 0.65 times its book value, according to one analyst. Another says that there is an element of me-tooism about private equity's recent interest in Lloyd's players following Apollo's takeover of Brit.
But there are several qualities that make Chaucer particularly compelling. The reason for its low valuation only adds to the attraction for private equity.
In the heady days before the credit crunch, the insurer handed over its investment portfolio to hedge funds. The returns were high during the good times, but in 2008 so-called 'toxic' assets resulted in an investment portfolio loss of £71m. It nearly brought the insurer to its knees.
"Chaucer in 2008 had a whoopsy on its investments and ran out of capital," says Keefe, Bruyette & Woods analyst Chris Hitchings.
A bad smell still lingers around Chaucer's toxic assets – unjustly. In 2010, Chaucer's investments in hedge funds were just £9.3m: 1% of its investment portfolio (see chart, above right). "Chaucer is very, very cautious because that's what the stock market wants, so its assets are in bonds and cash," says Shore Capital analyst Eamonn Flanagan.
Last year, the other 99% of Chaucer's investment portfolio – £1,381m – was all in bonds and cash. The downside of this prudence is an investment portfolio that looks a little too prim and proper, with investment returns of around 1.5%.
That prudence makes it very seductive for a more adventurous player. A private equity house, unrestrained by stock market caution and out of the public eye, could easily play a little faster and looser with assets. "If they've bought the family silver, it's theirs to fiddle around with," says Flanagan. "In a private company, you'd be willing to take more risks on the asset side."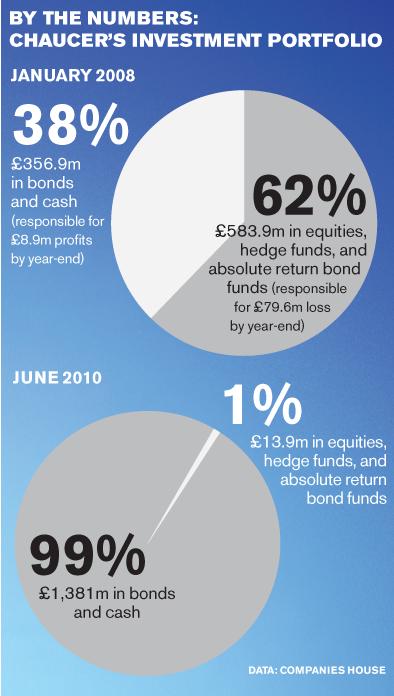 Wide appeal
And money in the bank is not the only virtue that attracts predators. Chaucer is one of very few Lloyd's insurers still based in the UK. Relocating to a tax haven like Guernsey, Terra Firma's home, would be a quick way to save money.
Chaucer is also cheap to run because, unusually for Lloyd's, it runs a significant motor book: over a fifth of its business portfolio. "They don't actually have to make much money underwriting motor to make it profitable because of the capital efficiency," says Flanagan. "It translates into a low solvency requirement that makes it very efficient for the capital provider." By keeping solvency requirements low, the motor book offsets Chaucer's higher risk, lower frequency business. Chaucer's two biggest earners in the first six months of 2010 were nuclear and aviation, which together netted the company £10.1m in underwriting profits. And Chaucer's energy business, which made a small loss in the first half of 2010, is now very attractive, as energy rates buck the market and rise in the wake of panic over the scale of the Deepwater Horizon disaster.
Another attraction is that 16% of the company is up for grabs from an investor with every reason to sell. Pamplona has been bidding for a 29.9% stake in Chaucer since May 2009 and has bought up 16%, but to exercise voting rights on more than 10% of Chaucer's shares, it needs FSA approval. Pamplona has been apparently less than eager to ditch its stake – "The silence out of Pamplona is deafening at the moment," says Flanagan. Yet nearly two years down the line, FSA approval is still not forthcoming, giving the Russians ample incentive to ditch Chaucer. Having bought at 42p a share, says Flanagan, the equity house can expect to sell for at least 62p and walk away with a tidy 50% profit. Not bad for a failed takeover.
Who's in pursuit?
The combination of strong assets, low capital costs and Pamplona's incentive to sell is clearly seductive. And not just to private equity, but also to insurers. The particular appeal for an insurer would be that, as well as playing with the assets, it could work with the business. Brit was interested because, as a fellow Lloyd's insurer, it understands Chaucer's business and hoped to save on costs and integrate the two operations, growing both.
The bid failed over price, but talk of insurer interest is the reason that Flanagan reckons Chaucer's share price could reach 75p. "Trade buyers would be able to pay more in terms of what they want to achieve," he says. "It would set the cat among the pigeons."
Yet, last week Chaucer's share price dipped from its high of 66p to under 58p. The reason, say analysts, is that while Chaucer has talked of a "number of approaches", only Terra Firma has come forward. An insurance knight in shining armour makes sense in theory, say analysts, but none can name any interested parties. That has led some to suspect that the Terra Firma bid is the only serious option on the table. "If the statement says there are others looking, that is the case," says Cornes. "But in terms of whether or not they come to anything, it's very hard to say."
Market talk of US insurance interest would fit in with Chaucer chief executive Bob Stuchbery's background, as a veteran of CNA Reinsurance, then owned by the Chicago-based CNA Financial Corporation. The former chief underwriting officer, who has 2.6 million shares in the company, is expected to be pivotal in any takeover talks.
Chaucer is understandably tight-lipped about current developments, but on Monday it released its Form 8, as required under the Takeover Code, revealing directors' shareholdings.
Talk of the insurer allowing Terra Firma access to the financial books means that there could be a bid as early as next month. And the appointment of Willis Capital Markets and Advisory Services earlier this month suggests that Stuchbery is taking Terra Firma seriously. He may have little choice.
"It's a question of shareholders who might sell irrespective of what management say," says Hitchings. "And therefore management are realistic enough to say, 'OK, we will talk to anyone'."
Even so, it would be a mistake to ignore management opinion. "It'd be very odd to go ahead on a hostile basis against the management team," Flanagan says. "The Chaucer underwriters know everything about their business."
A quality business at the right price, there clearly is something about Chaucer. But is there something about Terra Firma that is turning the market off? "I'm surprised the share price has eased back slightly," Cornes says. "But then, I was a bit surprised that it was Terra Firma, given what has happened in the recent past with that company." IT