Jonathan Clark takes over in the role from Dame Inga Beale
Jonathan Clark was today elected president of the CII for 2018/2019 at the body's AGM.
Nick Turner, director of NFU Mutual APFS, has been appointed as deputy president.
Clark has 35 years experience in claims handling and has worked with many of the world's largest corporations on their claims programmes.
He joined SCOR in 2013 as head of claims in London and is now global head of claims for Business Solutions.
He has been a member of the executive teams of global adjusting firms Crawford & Company and Cunningham Lindsey, developed a team handing specialist claims at Ellis and Buckle, and was claims director at the Financial Services Compensation Scheme.
Clark said: "This is an interesting time for the profession and I am really looking forward to my year as president of the CII.
"My focus will be on promoting and developing a united profession during my tenure; united around standards, professionalism and diversity of membership, ensuring that we're an inclusive profession which is well-positioned to serve our incredibly diverse customer base.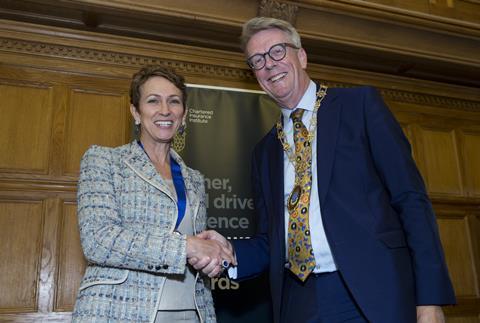 "To this end, I will be championing a renewed focus on the CII's efforts to promote the profession, to continue to attract young talent and to ensure clients' and customers' interests are always at the heart of the profession's focus."
Taking over from Dame Inga
Clark was previously elected as deputy president of the CII in 2017 and takes over from Dame Inga Beale, the first female chief executive at Lloyd's.
Dame Inga's presidency theme of 'New Talent' focused on attracting a new generation of digitally savvy talent who would successfully meet the needs of a more diverse consumer group.
During her tenure, the CII launched its Aspire Apprenticeship Programmes offering employers across the insurance profession access to quality-assured apprenticeship training programmes.
Dame Inga said: "It has been a great honour to serve the CII as its president.
"The past year has been an exciting time as we seek to develop the profession and progress by embracing new technologies in order to attract the very best talent into insurance.
"Launching the Aspire Apprenticeships Programmes was a particular highlight of my term.
"I would like to congratulate Jonathan Clark on his election and it gives me great pleasure to pass on the presidency to him."
And Sian Fisher, chief executive of the CII, added her delight at Clark's appointment.
She said: "His extensive experience and achievements in the market will be a welcome addition and I very much look forward to working with him in the coming months.
"I would also like to thank Inga for all her hard work and dedication in her year as CII president."