A claims company has been criticised by the Advertising Standards Authority for a misleading holiday sickness video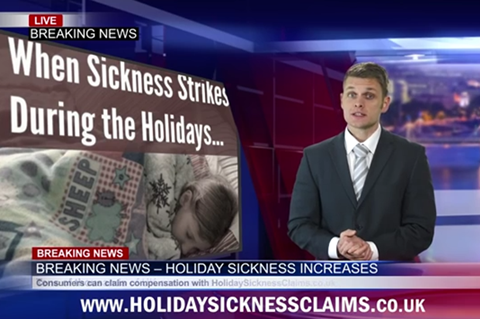 A claims company trawling for holiday sickness claims on the internet has been slammed by the Advertising Standards Authority.
The ASA said that Claims Legal Ltd, trading as Holidaysicknessclaims.co.uk, had breached advertising rules over a YouTube video posted in February.
The video cited statistics on global food poisoning, and said holidaymakers should report any instances of holiday sickness to the claims company, implying that the company was involved in an official reporting capacity.
In the video, a spoof newsreader told viewers, "Alan Hoey, Director of Holiday Sickness Claims, said that people who have been on an all-inclusive packaged holiday in the last three years, and suffered with sickness – even mild sickness – should speak to our client team and report the sickness. As well as being formally recorded for the purpose of statistical analysis, you may be entitled to claim compensation for your sickness on a 'no win no fee' basis."
The ASA ruling followed a complaint from the Association of British Travel Agents (ABTA) that the video quoted global fatality figures which were unrelated to holiday sickness.
The clip has been removed from YouTube.