But moved trial date means he will not be able exit his contract early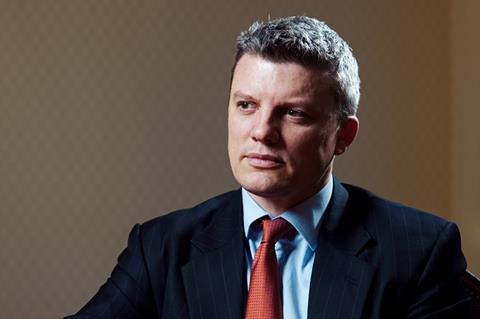 Former Gallagher International chief executive David Ross claims that actions by his old firm have effectively annulled his employment agreement.
But the recent move of the trial date to 1 February next year means he will not win an early exit from his contract.
In a recent amendment to his defence and counterclaim in the court battle with Gallagher, Ross alleged that a "breach of mutual trust" has rendered the Ross Service Agreement invalid, entitling him to terminate it.
Ross, who resigned from Gallagher in February 2015, is currently on gardening leave under his one-year notice period and is due to take up his new position as chief executive of rival broker Towergate in early 2016.
The claim is the latest twist in the court battle between Gallagher and Ross. The broking group is suing Ross, former Gallagher International chief financial officer Mark Mugge and mergers and acquisitions adviser Christopher Keey, accusing them of scuppering acquisition opportunities and orchestrating the departure of a group of senior executives.
The trio deny Gallagher's claims and both Ross and Mugge have issued counter-claims accusing Gallagher of spying on them.
'False allegations'
Ross filed a re-amended defence and counter-claim document on 2 June. The new version includes a section accusing Gallagher division Arthur J Gallagher Services (UK) of acting "in breach of the mutual duty of trust and confidence" that Gallagher itself had referred to in its initial claim as being an implied term of Ross's employment contract.
Among the trust breaches alleged by Ross are:
The "humiliating" withdrawal of his responsibilities for the Australia and New Zealand business of Gallagher International. Ross said that because there were no formal changes to his job title, he was put in the "embarrassing position" of having to explain that he did not have the responsibilities his job title suggested. Furthermore, Ross claimed Gallagher International chairman Tom Gallagher had offered to reinstate the responsibilities in 2017, and that this would be deemed a promotion for Ross.
Alleged "false allegations" made by Tom Gallagher about Ross's conduct to Employee A, the managing partner of a "profitable division of Gallagher", that Gallagher has accused Ross of trying to poach. According to Ross, Tom Gallagher told Employee A that Ross had concealed a "substantial bonus pot" from his colleagues and deliberately delayed the implementation of long-term incentive plans "in order to weaken Gallagher".
The alleged disclosure of "confidential information" about Ross's financial affairs by Gallagher's international commercial director Vyvienne Wade. Ross claims Wade disclosed the fact that Gallagher had made loans to Ross and that it would seek repayment of them following Ross's resignation. She did this before Gallagher demanded repayment.
Ross also included Gallagher's alleged surveillance of him in the list, and accused the firm of disconnecting his Gallagher mobile phone without notice.
Termination
Ross said the alleged breaches are a "repudiation" of his employment agreement and he is therefore entitled to terminate it. He said his lawyer, Mishcon de Reya, wrote to Gallagher's lawyer giving notice of the termination on 2 June 2015 and that he treats this as the date of the contract termination.
The court document read: "The effect of the said termination is that (i) the Ross Service Agreement and Mr Ross's employment thereunder is terminated with effect from the date of the said letter, and (ii) [Arthur J Gallagher Services (UK)] is not entitled to enforce against Mr Ross any prospective obligations thereunder (including post-termination obligations)."
The dispute is to be settled in a 25 day trial starting on 1 February 2016. The case was originally due to start between 13 and 17 July.
There is also two-day mediation period scheduled for some time between 14 September and 4 October, giving the chance for the parties to reach an agreement before trial.
A spokesman for Gallagher said: "It would not be appropriate to comment on this matter while the case is ongoing".
A spokesman for Highbridge, a key investor in Towergate, also declined to comment.