Files and senior management oversight found weak in majority of firms studied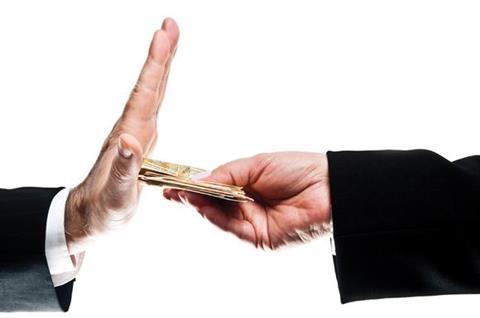 Most insurance brokers are faling to manage the risk of being involved in bribery and corruption, the FCA has warned.
The regulator visited 10 medium or smaller brokers, including nine Lloyd's brokers as part of a wider thematic review of financial crime systems and controls
More than half of them had taken some steps to asses and manage bribery and corruption risk, but the majority had to do more to make the systems and controls effective, the FCA said in a report published today.
The review followed a review by the FSA, the FCA's predecessor in 2010 into financial crime risks Since then, the regulator has fined Aon, Willis, JLT and Besso over concerns about their bribery policies.
While some intermediaries' policies on remuneration, hospitality and training had improved since the last review, bribery and corruption risk assessments were often too narrow and many firms failed to take a rounded view of the risks associated with individual relationships, the FCA warned.
Half of the third party and client files reviewed were inadequate and senior management oversight was often weak, it found.
The FCA said it had given individual feedback to each firm in its sample. It is also planning to update it financial crime guidance.
Although most of the firms dealt with international wholesale business, the FCA said it expected all commercial insurance brokers, particularly those who act on a wholesale basis or deal with overseas parties, to consider the findings and assess how they could improve their systems and controls.
Tracey McDermott, FCA director of enforcement and financial crime, said: "Firms must take their responsibility to reduce the risk of financial crime seriously. Significant improvements are still required in this area.
"To do that successfully requires firms to use their judgement and common sense. That is not about box ticking or wholesale de-risking. It is about firms getting the basics right – understanding their customers, the risks they pose and managing those risks proportionately and sensibly."