The latest gathering of Insurance Times's anti-fraud group got up close and personal with a convicted conman, as well as discussing ghost brokers, lessons to be learned from banks, and closer collaboration with the police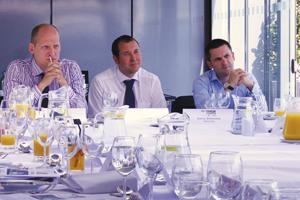 At our last Fraud Charter, delegates said they wanted to learn more about other industries' tactics.
So we invited former fraudster Tony Sales, who now advises retailers and banks on combating fraud, to tell us how he cracked retailers' fraud barriers.
Fico also provided valuable intelligence on the banking and finance industries, while insights from Insurance Fraud Bureau director Ben Fletcher pointed to the need for industry collaboration.
The agenda
1. Are the deterrents and penalties for insurance fraud strong enough?
Fraud Charter members heard the inner-workings of a fraud ring from notorious UK conman Tony Sales.
Sales was jailed for 12 months after he was caught defrauding retailers out of an estimated £30m through fake credit cards, store cards and personal finance schemes. He now works to help firms tackle their vulnerabilities.
"The fatal flaw is that all loss prevention is run by decent, hard-working people," he said.
When asked whether anything could have deterred him from pursuing a career in fraud, he said: longer prison sentences.
"I thought: 'One day I'm going to get caught', but what's the worst that can happen – a maximum of three years?
"If someone gets caught selling 2kg of cocaine they're going to get 20 years. The rewards are far greater as a fraudster, with fewer penalties."
We say …
The sentencing for fraud-related crime is being reviewed to take into account long-term implications, rather than simply being based on how much fraud was committed in financial terms.
2. What can insurers learn about fraud from banking and finance?
One of the main problems with the insurance industry's approach to tackling fraud is too much focus on claims rather than application fraud, according to Fico principal consultant Martin Warwick.
"A tough-on-fraud stance usually means you'll upset some of your customers … But if you can stop fraud coming in the door, most of it migrates elsewhere," he said. "The banking world has been doing real-time, first-party fraud detection since 2009, which drove out £170m of fraud in that first year alone."
Focusing on claims rather than application fraud means that once a customer is in the door, they are likely to be cross-sold other products, adding to a web of fraud.
LV= head of financial crime Sue Jones said: "Speaking to banks is so important –- they have data highly indicative of insurance fraud taking place."
We say …
Undetected general insurance claims fraud totals £2.1bn a year, adding about £50 to each annual policyholder fee - so insurers are right to be putting a heavy focus on this area.
3. What is being done to fight ghost broking?
Rising insurance premiums, police crack-downs on uninsured drivers and the trend towards consumers buying online has led to a boom in ghost brokers - illegal insurance intermediaries.
Insurance Fraud Bureau (IFB) director Ben Fletcher said the problem has been increasing over the past 18 months, but inroads were being made. "Two years ago, we didn't have any [ghost broking] investigations; now it's about 20% of our portfolio," he said.
He said the IFB is working with Biba and brokers and has developed an application fraud model to stamp out the problem. "We recognise we need to engage better with brokers … There are 3,000 in the UK and they may have information of interest to us."
The IFB has also teamed up with the Insurance Fraud Enforcement Department and the ABI to raise awareness about ghost broking.
We say …
Ghost brokers could begin to switch their energies to the commercial lines market because of the increasing focus on the personal lines sector.
4. Are industries involved in fraud working together to share data?
Insurers, lawyers, loss adjusters, brokers, technology providers and the government are all fighting fraud, but there is a growing call for greater cross-industry collaboration.
Keoghs director of fraud rings Ruth Needham said: "It's quite disappointing that lawyers might know something about Mr Smith, but an insurer has not got that same information."
Autonet Insurance head of compliance Mike Smith said the broking community did not share data at all. "We haven't got together and worked out how we can share data to help fight fraud," he said.
But Fico insurance fraud manager Russ Schrieber said insurers need to sort out their own internal systems first. "I've seen insurers that are not sharing data between multiple lines of business," he said, "so even internally they can't get a complete picture to identify reoffending fraudsters."
We say …
One of the IFB's priorities is to look at opportunities for sharing information between industries - it has signed an agreement with the Association of Chief Police Officers to help facilitate this.
5. Does the insurance industry have enough intelligence to fight fraud?
Having access to vast amounts of data is one thing; having intelligence about what is happening on the street is another thing altogether, Fraud Charter members agreed.
Zurich claims fraud and investigations manager Scott Clayton said: "I'm convinced some of the biggest fraud rings are so sophisticated that there's no data on them at all."
GAB Robins counter-fraud and investigation manager Neil Daniel agreed. "Do we have the intelligence to know whether we're even tackling the top tier of fraud?"
The IFB said it had made progress gaining intelligence to make arrests. But Keoghs director of fraud rings Ruth Needham said even if the police are given tip-offs, the insurance industry can't force them to follow up. "We've had incredibly good intelligence and gone to the police, then a murder happens, so our case gets pushed back," she said.
Delegate feedback
Mike Smith, head of compliance, Autonet Insurance Group
"This is a great opportunity for the insurance industry as a whole to work together in combating the risk of fraud. It was good to hear insights from the mind of a previous fraudster, which showed how important it is for us to consistently develop initiatives to tackle fraud."
Scott Clayton, UK claims fraud and investigations manager, Zurich
"It was interesting to hear from the reformed fraudster that this type of crime is industrialised and fraudsters work meticulously to plan and prepare, targeting weak links. He emphasised what we've known for a long time: fraud is a huge problem, with criminals attracted to it because of ease and scale of the opportunity. Another thought-provoking aspect was how the criminal underworld communicates to help each other to avoid being caught."
Ruth Needham, partner, Keoghs
"It's always helpful to meet a cross-section of the industry, to consider pressing issues. The goal of getting fraudsters in prison continues and, while there have been successes, a lot more work is necessary. But it was encouraging to see that all areas of the industry accept we could and should do more to work together."
Garry Simmons, head of property and liability claims, Sterling Insurance Group
"Insurance Times is playing an essential role in bringing together a diverse group of specialists to promote the fight against fraud, and to encourage industry-led initiatives and co-operation."