Founder of southwestern broker to step down on Friday
Ian Gosden is to retire as chairman of Higos and step down from the business effective Friday.
Founded by Gosden in 1990, the broker with more than 20 offices in southwest England was acquired in February 2017 by Global Risk Partners to become the consolidator's South West hub.
In a letter to staff, the founder of the company said: "Building Higos and working with you has been an honour and a privilege and without doubt my greatest achievement."
"I will look back on our achievements with pride and know I have left a wonderful legacy behind which is a professional broker and you, my staff who will, I have no doubt be running the insurance industry for years to come."
Mike Bruce, GRP's chief executive of broking said: "Ian has been a stalwart within UK broking for nearly three decades and an outstanding entrepreneur. We fully intend to build on Ian's legacy and take Higos to the next level of growth and success.
"He leaves with our very best wishes for a long and happy retirement."
Neil Thornton will continue in his role as interim managing director with overall responsibility for the business.
In 2012 Higos was named Independent Regional Broker of the Year at the Insurance Times Awards.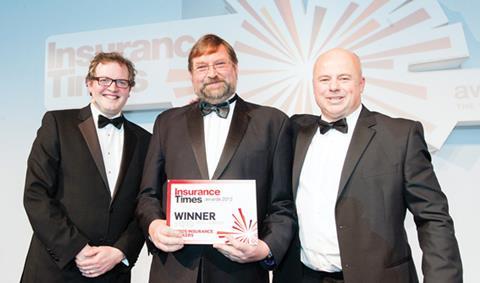 Ian Gosden receiving the award for Independent Regional Broker of the Year at the 2012 Insurance Times Awards from comedian Miles Jupp and Aviva UKGI director of intermediaries, Phil Bayles