Commons leader responds to concerns about lack of cover for businesses under Flood Re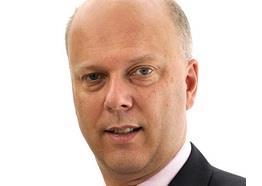 Government ministers are in discussions with the insurance industry about ensuring businesses have affordable flood cover, House of Commons leader Chris Grayling has said.
Grayling made his comment in the House of Commons on Thursday amid MPs' growing concerns about affordable flood cover for businesses following December's floods.
They are particularly worried because businesses are excluded from the Flood Re affordable flood insurance scheme, which is planned to launch in April. Flood Re only covers domestic properties.
Flood Re replaces the Statement of Principles, an existing affordable cover agreement between the government and insurers that covers small businesses as well as homes.
Grayling's comment was a response to a question from Conservative MP for Calder Valley Craig Whittaker.
Whittaker said: "The government have been told by the insurance industry that all businesses are offered flood insurance for their businesses, but we know after devastating floods in Calder Valley over Christmas that that is not the case – and where it is, we know that the premiums and excesses are often extortionate, unaffordable and unfair.
"May we have a debate on flood insurance for business and on whether the government will begin negotiations with the insurance industry on behalf of business, as they did with domestic properties and Flood Re?"
Grayling responded: "[Whittaker] knows that Flood Re was set up as a residential system in the first place, but I can assure him that ministers are currently in discussions with the insurance industry about how to address precisely the concerns he has raised today."
ABI general insurance manager Mark Shepherd told Insurance Times that insurers and ministers are in regular contact about floods.
He said: "The insurance industry accepts that there will be some isolated cases where businesses may experience difficulties in accessing affordable cover because of their high flood risk.
"However the scale and nature of the problem is very different to that faced by the household market, which is widespread and which Flood Re is designed to address. The ABI continues to have regular conversations with ministers about both the insurance sector's response to the December storms and wider policy issues."
Broker trade body Biba is working on an affordable flood insurance scheme for businesses. It has signed up outsourcing firm Capita and mapping company Landmark Information Group to help it develop the scheme.