But consolidator GRP's statutory results look less flattering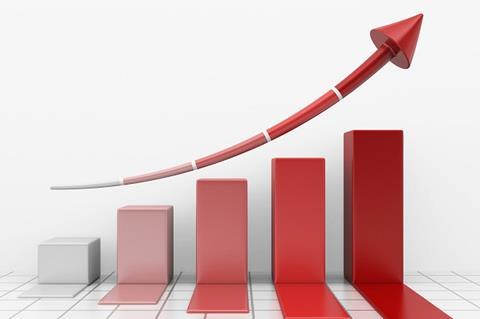 Consolidator Global Risk Partners (GRP) has reported a three-fold increase in underlying profit and an almost three-fold increase in the gross written premium (GWP) it controls as it aims for £1bn gross written premium by 2018.
The company says it ahead of where it needs to be to hit its target, and chief executive David Margrett said that more deals are on the way, with five firms in due diligence.
But the company's statutory results paint a less flattering picture, with a widening pre-tax loss.
Rapid growth
GRP now controls £400m of GWP, up 167% from last year's £150m, fuelled by acquisitions. This is a run-rate figure, so includes acquisitions made in the year as though they had been owned for an entire year.
Run-rate earnings before interest, tax, depreciation and amortisation at the underlying business level, excluding holding company costs, increased by 200% to £12m from last year's £4m.
Run-rate turnover increased by 137% to £45m (2015: £19m).
GRP 2016 key figures
| | 2016 | 2015 | change (%) |
| --- | --- | --- | --- |
| GWP (£m) (1) | 400 | 150 | 167 |
| Turnover (£m)(1) | 45 | 19 | 137 |
| Underlying EBITDA (£m) (1) | 12 | 4 | 200 |
| Trading profit (2) | 5.3 | 2.4 | 121 |
| Pre-tax loss (3) | 7.1 | 2.7 | 163 |
(1) Run-rate figures, including annualsed figures for acquisitions
(2) for year to 31 March 2016
(3) Statutory result for year to 31 March to 2016
The company's trading profit in the year to 31 March 2016 at holding company level, not a run-rate figure, increased by 121% to £5.3m (2015: £2.4m).
Margrett said in a statement that the results had been achieved after a year of "frenetic activity". GRP acquired seven businesses in the 2016 calendar year, including Lloyd's broker Lonmar Global Risks and retail broker Marshall Wooldridge.
Speaking to Insurance Times about the results, Margrett said: "With the size of the pipeline at the moment we are probably further along our course than we expected to be at this stage."
He added: "We have got five businesses in due diligence at the moment. None of those are guaranteed to take place but that gives you some idea of how much activity there is.
"There is a pipeline of others that we have been talking to that will keep us busy for some months."
Widening loss
GWP's statutory numbers for the year to 31 March 2016 paint a less flattering picture. The company's pre-tax loss has widened to £7.1m from £2.7m.
But Margrett explained that the statutory loss is largely a result of GRP being an acquisitive company. It includes non-cash charges for amortisation of goodwill and also the full cost of doing deals before the company has earned the revenue to offset them.
GRP was founded in 2013 by Margrett and former Towergate chairman Peter Cullum. Its first acquisition was underwriting agency European Property Underwriting in September 2013. It now owns 12 firms.
The cmpany is backed by private equity house Penta Capital.