The Backchat Insider is astounded by MP Jonathan Evans's whippet-like speed at navigating the labyrinthian route from his office to the Commons chamber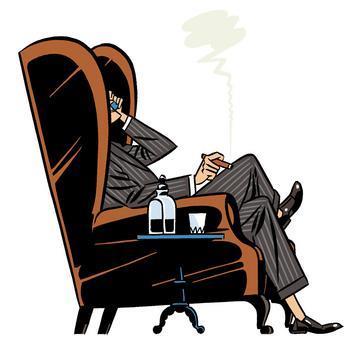 Good Evans
My recent trip to the office of Jonathan Evans, chair of the all-party parliamentary group for insurance and financial services, involved what seemed like a lifetime navigating through the corridors of Portcullis House. How does he get to the Commons chamber within the requisite eight minutes after the division bell rings? No cause for worry. Evans says he can make the journey in five-and-a-half minutes – and avoids the lifts when he's in a hurry as they "slow him down". Usain Bolt, beware.
A sporting preview
Staff at Ryan Insurance Group have been getting into the Olympic spirit by training for their own version of the Games. The events include throwing a paper aeroplane, apple shot put, bowling paper into a bin and the standing long jump in an office corridor. With talent like this, Great Britain is sure to scoop several medals later this year. Watch the video at: goo.gl/jalbo
Wood he?
British explorer Mark Wood may be forced to abandon his planned expedition to the North and South Poles after having trouble finding airline bonds. Wood wants to be the first person to ski solo to both poles in the same season, but needs airline bonds in case he needs to abandon the trip. I know it's a bit risky, but surely a travel insurer can help him out?
In the public Eye
Oval boss Philip Hodson is no stranger to the insurance trade press, but I was surprised to see him gracing the pages of another publication - political satire magazine Private Eye. It seems that Hodson, who is also president of Marylebone Cricket Club, has sent letters to the club's members to complain about newspaper articles on delays to plans to redevelop Lord's. The Eye says Hodson dubbed such "public debate" "unhelpful".
For the crack
Perkins Slade chief executive Nick Tamblyn certainly spoils his staff on special occasions. I popped into the broker's offices last week and witnessed a man struggling to push a huge trolley filled with Easter eggs for all the staff.s
Insults to injury
You'll no doubt be aware that 2011 was a difficult year for those writing international catastrophe business. But those weary of the oft-repeated phrase "an unprecedented year of natural catastrophe losses" will surely be entertained by Novae chief executive Matthew Fosh's colourful take on the issue: "It was an absolute pig of a year. You got a kick in the bollocks, then a kick in the solar plexus, then a slap around the head and a bullet in the shin." It's like I was there …
Hot lines
A while ago I revealed that Ink managing director Mike Smith was fond of the Circle Line challenge, a game that involves having a drink at every stop on the London Underground's line of that name. Well, RSA sales and strategic relationships director Chris Sime told me about the Glasgow version - the "clockwork orange".
I must point out, though, that the loop of the Circle Line has 27 stations, while the Glasgow subway only has 15.
We are one
I hear that the folk at Auto Windscreens recently celebrated the firm's first birthday since it was acquired by Markerstudy. Staff were spotted wearing birthday sashes and cakes were specially baked for the occasion. Apparently the event itself was very calm and restrained – it's those teenage birthdays we should be worried about.