Insurance trailblazers working group included representatives from across the industry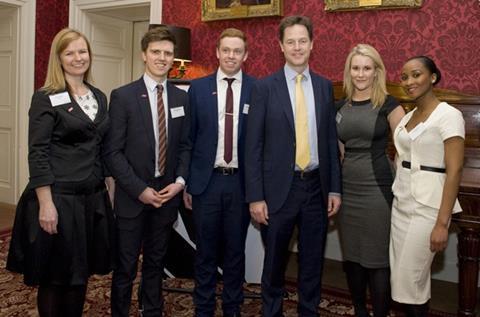 A new framework for insurance apprenticeships has been given the green light today by the government.
The new guidelines were drawn up by the Insurance Trailblazers working group which includes the CII, Biba, the ABI and representatives from Aon, Aviva, AXA, Barbican, Chaucer, Covea, Cunningham Lindsay, Lloyd's, Markerstudy and Markel International.
Many firms within the insurance industry have already signed up to adopt the new framework and more are expected over the coming months, according to Aon, which spearheaded the industry group.
Commenting on the new framework, deputy prime minister Nick Clegg said: "For too long there has been a barely concealed snobbery surrounding apprenticeships, with some people believing university is the only path to a good career. I'm proud that within this government we've seen a step change, with the largest number of people starting apprenticeships in recorded history.
"There is still work to be done to ensure people see the value of apprenticeships across a wide range of industries, so it's hugely encouraging to see key players in the insurance industry working together to create apprenticeship schemes."
Industry collaboration
Aon UK chief executive Dominic Christian said: "If we are to make apprenticeships an attractive alternative to university, they must have a rigorous structure and we must do all we can to raise awareness about their availability in the insurance industry.
"We want apprentices to truly represent today's economy. The challenge now is to ensure those advising young people are aware of the amazing opportunities available."
CII chief executive Dr. Sandy Scott added: "Today's announcement is testament to the collective efforts of the insurance sector. The CII is highly committed to supporting employers with apprenticeships, providing information and guidance, as well as ensuring the apprenticeships meet the professional standards expected of our sector."
ABI director general Huw Evans said: "Without recruiting new talent and apprentices, we will not be able to innovate and succeed to meet the challenges of our fast-changing world so it is vital we support this agenda."
Biba chief executive Steve White said the standard would help the industry achieve its pledge in the Insurance Growth Action Plan to double the number of apprentices in the industry by 2018.
Apprenticeships LIVE
Insurance Times and the CII have joined forces to launch Apprenticeships LIVE - a year-long initiative to recognise outstanding apprentices and apprenticeship schemes in UK general insurance.
Together they will be travelling the UK at a series of regional events to recognise outstanding apprentices, with the winners recognised at the Insurance Times Awards on 1 December.
The regional events will be held on:
Birmingham - 10 June
Manchester - 29 September
Bristol - 20 October
London (finale event) - 19 November
Insurance Times has also launched an Apprenticeship Scheme of the Year Award, which will be announced at the Insurance Times Awards. Insurers and brokers will be able to submit their entries from April.
For more information on either of these initiatives contact: hayley.bromilow@insurancetimes.co.uk.