Delegates at a London technology clinic were told industry's complexity was a brake on digital advance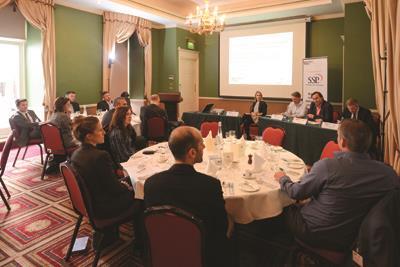 The insurance industry is still in the digital dark ages, according to delegates at a recent Insurance Times technology clinic held at The London Club.
When asked how insurance was faring from a digital perspective, 92% agreed that the industry lagged behind other sectors (see right).
But SSP head of data strategy Adrian Coupland, who was speaking on the panel at the event, said this had to be tempered with the fact that the insurance world was a complicated marketplace.
"Insurance is a complex market," he said. "The insurance industry often gets a lot of criticism for its lack of innovation, but the product is so much more complicated and unless you are in the industry you will not understand that.
"[For example] the distribution landscape of the market is quite heavily intermediated, and it is quite a frictional relationship between [the broker and] an insurer trying to embed a really strong digital engagement with the consumer, because brokers would feel disintermediated if their brand is being diluted by the insurer's digital offering."
Outsider's perspective
RSA chief digital officer and fellow panellist Ian Hood said compared with some industries, insurance was digitally advanced.
"We've had someone join us from the gaming sector and he was expecting to agree that [insurance] was in the dark ages," he said. "But he's been here a couple months and has said that actually we are quite good and he was surprised.
"So from an outsider's perspective coming in to quite a traditional insurance company, a lot of what we are doing is quite advanced."
And the industry can get some relief from the fact it has room for growth, with mobile platforms an area where insurers can capitalise
on opportunities.
Keep customers' needs in mind
More than 60% of delegates selected mobile platforms as the biggest opportunity for growth over the next 12 months (see right), with self-service portals and social media receiving just over 15% of the vote each.
Hiscox group digital manager Ronnie Brown said insurers needed to keep the customer's needs in mind when assessing distribution and offer mobile options if there was appropriate demand from consumers.
He said Hiscox wanted the entire customer journey to be available on mobile platforms if the customer demand was there and the insurer could still assess the risk.
"If there are enough people who want that service and we can deliver it to them in a profitable, risk averse manner, then why not?"
Self-service is the big opportunity
But LV= e-commerce director Paul Wishman said mobile platforms had already experienced a lot of growth, and that the real opportunities lay in self-service platforms.
"Mobile has seen that trajectory of growth already, and it's kind of seen its day [in terms of continued growth]," he said. "For us, [the big opportunity] is self-service. Self-service is ubiquitous in our everyday lives, but I look at insurance and it is lacking.
"You may not want self-service for certain claims, but [you should have] at least SMS messaging and tracking and that whole experience you have when you go to a supermarket."
Another area where insurers have room for improvement is in the way they use data.
More than 80% of attendees at the event said their company was not currently making the most of its data (see page 45).
Searching for data nirvana
But Brown warned that data analysis was an iterative process and that insurers would never be able to achieve perfection in the way it looked at data.
"We are underestimating how resourceful people can be in extracting little bits of insight," he said.
"While you may not have the perfect system and perfect data, there is still a lot of value left in imperfection if you are willing and have some drive about you. We are all still doing good work and extracting value [from the data we already have].
"You will never be able to [make the most of data]. It's a nirvana that you will never reach; there will always be more you can do and more data [to analyse]. It is a constant, iterative process."
People count
Coupland said, however, that the most important aspect of implementing a new digital strategy was having the right people in place to instil a digital culture within the organisation.
"It's not just a case of 'hey we've got some data we better use it'," he said. "It's a case of having the right skill set and talent pool in the organisation. It is a fundamental re-shift and re-balance of how the insurance company is going to operate.
"It is not something you can take lightly."