From a job that took him to all corners of the globe, Marsh's head of UK operations now has his feet firmly on the ground. But returning the company to profitability and looking for opportunities to expand in the UK have provided new challenges
Martin South likes travelling. But you get the impression he did rather too much of it while managing the international business of global insurance powerhouse Zurich, which was his job before rejoining Marsh in February 2007.
"Over two years I was away 250 nights a year," he recalls. "These weren't Mickey Mouse trips – they were long-haul to Asia, Latin America, Australia."
Fortunately for South, he will not have to go too far afield to hit his self-imposed target of making Marsh's UK division a $1bn (£622m) business with a 20-point margin in three to five years. He was speaking to Insurance Times as the broker posted global operating income of $1.1bn in 2010. Last year's acquisition of HSBC Insurance Brokers, which Marsh netted for a very modest premium to acquired revenue, has already got the company part of the way there. It has also provided some of the tools it needs to expand further.
More acquisitions are highly likely for Marsh, and South claims the UK market is teeming with opportunities for organic growth, both through moving into new areas and doing more work with existing clients.
With a nod to his old job at Zurich, South says: "My mantra would be that even in a mature market we have got emerging market opportunities and lots of growth potential at a time when we feel our competitors, particularly in the UK retail environment, are struggling."
No stranger to adversity
South originally became involved with Marsh when he joined its subsidiary, Lloyd's broker CT Bowring, in 1985. In 1996 he left for an underwriting career at Zurich Re, but was tempted back to Marsh by its head of international operations, Alex Moczarski, with whom he had worked closely in his role at Zurich.
At the time South was looking to return, Marsh, along with the other big global brokers, was still reeling from former New York attorney-general Eliot Spitzer's stinging attacks on business practices in general and contingent commissions in particular. These commissions were euphemistically referred to as placement service agreements (PSAs).
"It's fair to say that at the end of 2006 the business still hadn't cracked the code of profitability in the post-PSA world," says South. "Morale was down and there had been six or seven quarters of negative growth."
South was no stranger to adversity at Zurich, having dealt with the sale of Zurich Re and overseeing the subsequent restructuring of the London business, of which he became chief executive in 2000. Even in his new role as head
of Zurich's international operations, he faced challenges. In 2005, for example, Australian regulators took two of Zurich's subsidiaries there to task for inappropriate accounting of reinsurance arrangements.
The temptation of another challenge, coupled with the attraction of working for a non-underwriting company and South's "massive soft spot" for Marsh, led him to take up the newly created role as head of the UK operations.
"The opportunity to come back and fix something that I felt deeply about and I had an affinity with, and not have to travel, seemed like a reasonable choice," he says.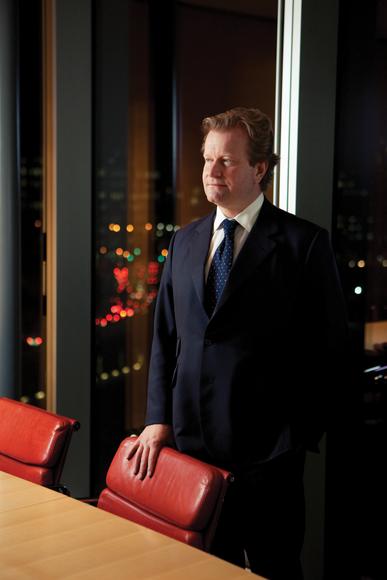 South set about returning Marsh UK to profitability. Back-office functions were outsourced to Capita. "We were very tough on costs during 2007 and early 2008 to get the profitability back," South says.
He also worked on breaking down the barriers between the various UK profit centres. Previously, employees had seen themselves as belonging to one particular operating company or another, rather than the organisation as a whole.
"The inference was that people didn't care what happened elsewhere," says South. "We weren't consistently getting the best out of all the things we could do for clients in a way that made sense."
South felt that going into 2009 the company was in much better shape. Just as Marsh UK was getting up to strength, South detected that some of his rivals in the UK retail space – the consolidators – were starting to flag.
"Our competitors in the UK, particularly in the UK retail market, who had been running wild buying brokers on the back of other people's
debt, started to realise they were so indebted that they were running out of steam," he says. "Some of the madness we saw towards the end of 2007 and 2008, with people paying up to 13.5 times EBITDA – suddenly they couldn't do it any more."
During 2009 Marsh spotted an opportunity to get a leg up. In December that year it announced its intention to acquire HSBC Insurance Brokers, which completed in April last year.
The acquisition opened up a strategic partnership with former parent HSBC, allowing Marsh to provide broking and risk management services to the bank's clients. It boosted its share in the UK mid-market sector, defined as FTSE 250-750 companies, to roughly 15% from around 10%. It also gave Marsh a presence in the London wholesale market, which it had effectively exited when it sold Price Forbes to management in 2006. Marsh has now resurrected the old Lloyd's broking brand, Gibbs Hartley Cooper.
Onwards and upwards
No surprise then, that for 2011, South says Marsh is firmly in growth mode. "We are nowhere close to achieving saturation in the UK marketplace even though it is a mature market," South says. "Because we are doing deeper and deeper segmentation, there are seams of customers that years ago we wouldn't have considered going for."
The growth potential in the small to medium-sized enterprise (SME) market is particularly important for South. "Everybody is getting excited about SME, but then it is around 50% of UK plc," he says.
He says that given Marsh's still limited SME presence, there are plenty of opportunities to grow. "We haven't rounded out our geographic footprint throughout the UK," he says. "There are parts of the North West where we have a very light footprint. We don't have representation in Liverpool. We have a fantastic group of people in Norwich who serve our global clients, but we don't have retail distribution yet in East Anglia."
As part of its SME push, Marsh is expanding its ProBroker and Labyrinth networks, which give the brokers joining the networks the use of Marsh's infrastructure and in turn allows Marsh
to tap into the markets served by the joining brokers. In January, the company added four new brokers to ProBroker.
Then there are the acquisition opportunities, which are a fundamental part of South's overall growth plan. South expects a number of opportunities to emerge as the tough market conditions force smaller firms to sell up.
Marsh faces its own challenges. With the relaunch of Gibbs Hartley Cooper, the broker has plunged itself back into the cut-throat world of Lloyd's broking. In turn, traditional wholesale Lloyd's brokers, such as Miller, are increasingly pitting themselves against the big three brokers in the retail space to avoid the profit squeeze in their usual business.
But South does not appear to be losing any sleep over these challenges. He claims to have a good work/life balance. "When I leave here, I tend to be able to switch off," he says. It must be easier now he doesn't have so many planes to catch. IT