Rightfully so, we've given our Award winners plenty of coverage, but there were five other finalists whom our judges felt merited special recognition. Read on to find out more about our highly commended entrants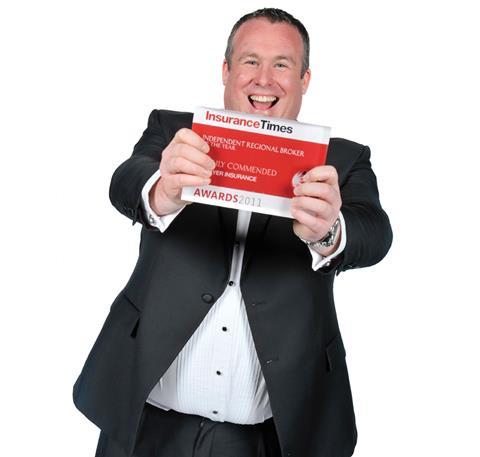 Independent Regional Broker of the Year
Highly commended: Lockyer Insurance
Who are they? Lockyer was founded in 1981 and was bought by Jon Newall (pictured) in 2001. The broker is based in Yorkshire and 90% of its book is commercial lines, with niches in areas such as commercial property, hotels, skip hire and beauty salons.
Why were they highly commended? The firm was highly commended because of its flexibility, expertise and innovative marketing skills. It invests heavily in staff training and sponsors local go-karting and rugby teams.
Loss Adjuster of the Year
Highly Commended: Crawford & Company
Who are they? Founded 70 years ago, with a UK office since 1957, Crawford is the world's largest provider of claims management solutions to the risk management and insurance industry, serving clients in more than 70 countries.
Why were they highly commended? The last two years have seen an unprecedented level of natural catastrophes worldwide. Crawford has been at the heart of the insurance industry's response to all of these events.
IT Pack Member of the Year
Highly Commended: Rachel Wells
Who is she? Rachel Wells is an account executive at Higos Insurance Services.
Why was she highly commended? Wells was awarded the highly commended category for her work in the 2011 IT Pack, doing especially well in the finale sailing event and interview. The judges decided that Wells was worthy of the category because they believed she deserved the confidence boost that the award would bring.
Personal Lines Broker of the Year
Highly Commended: Mercury West Associates
Who are they? Mercury West is a high net worth specialist, with clients in entertainment and sports. The firm has two branches: in Hatfield and Liverpool. It was recently bought by RK Harrison.
Why were they highly commended? The broker displays a great attention to detail with niche audiences and innovative new products, such as a bespoke car insurance product tailored for professional footballers.
Insurance Brand Campaign of the Year
Highly Commended: Stephens Francis Whitson and MORE TH>N
Who are they? Stephens Francis Whitson is the creative agency responsible for the campaign for RSA personal lines direct arm MORE TH>N.
Why were they highly commended? The campaign, using the character 'MORE TH>N Freeman', was an internet success, gaining 20,000 fans on
To see the full list of winners, including messages, photos and video, go to www.insurancetimes.co.uk/2011-awards-winners