What were the big stories from this year's Awards gala event?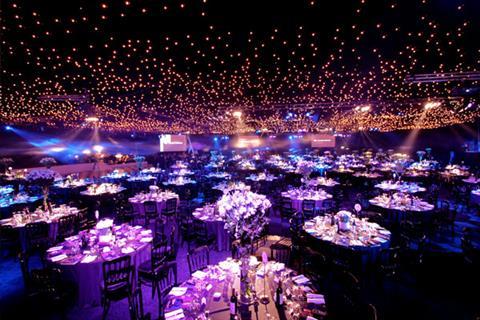 Dare
Steve Sweeney from Moneysupermarket accepted a dare to get up on stage during the Awards dinner and sing Mustang Sally. After his rousing rendition, he gave £200 to Help for Heroes.
Acts
The can-can and scantily clad contemporary dancers kept the audience entertained before the meal.
Venue
The 6,250 square foot Battersea Evolution, a temporary structure in London's Battersea Park, hosted the awards and subsequent lavish celebrations.
Turnout
The event was attended by a whopping 1,300 guests from 102 companies.
Swig
The Ageas and LV= bars proved a hit with the guests, with free shooters at the LV= bar particularly well received.
Donation
The night raised over £18,000 for severely wounded ex-servicemen charity Help for Heroes. The sum was raised via a mix of donations and a charity auction by TV presenter Vernon Kay. Items auctioned off included bottles of champagne and a day playing golf with Kay and the golfing editor of GQ magazine.
To see the full list of winners, including messages, photos and video, go to www.insurancetimes.co.uk/2011-awards-winners