Qualified women are just as likely as their male peers to get professional jobs in insurance - there just aren't enough women applying, with many put off by the industry's image
Against all expectations, the data show that if a qualified woman applies for a job in insurance, she's just about as likely as a man to get hired. But, behind that lies the real problem: too few qualified women are applying to work in insurance.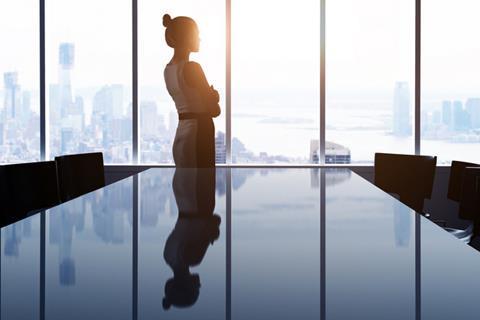 That's what's shown by research on employment in insurance from professional recruitment firm Oliver James Associates. There is no question that there are too few women in insurance. And there are too few women in senior roles in insurance – again that is irrefutable.
For senior women, insurance isn't the only or the worst performer – there are glass ceilings everywhere – but, for inclusivity, insurance has a pretty poor track record.
Further down the corporate organogram, the position of women is still difficult.
The question is: among a whole range of obstacles and misogynies, where do the fundamental problems lie?
Are some of the dinosaurs in the industry obstructing the progress of women in insurance? That undoubtedly happens, and any woman you ask could write a book on it.
Are women undervalued in insurance? Again, no question of it. Only in March this year did motor broker Adrian Flux announce that it was disbanding its scantily-clad promotional team of Flux Babes.
Insurance has an image problem, and that male and stale image is putting women off even applying for careers in insurance.
Insurance is the least popular financial services employer among young women at a time when more women are graduating from university than men.
A prominent study by corporate services group PwC found that 13% of millennial women would not work in insurance because of its image. That compared with 10% for banking and capital markets and only 5% for asset management.
And the survey found that 80% of young women thought that, while insurance talked a lot about diversity and inclusion, opportunities are still not equal.
Redressing the balance
As recruitment data supplied by Oliver James exclusively to Insurance Times shows, when a qualified woman applies for a job in insurance, she stands a better chance of getting the job than a man does.
For every 1,000 women whose CVs were submitted to potential insurance employers as qualified candidates in 2018, 65 were hired. That compares with 61 for men.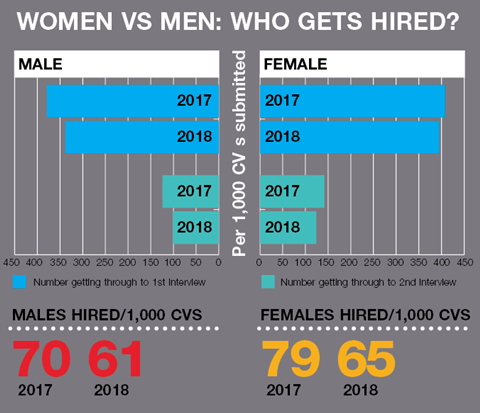 Last year, for every 1,000 women whose CVs were submitted, 79 were employed, against 70 men.
Broken down by job area, there is a mixed picture for women. On the same basis of hires per 1,000 CVs submitted, women do extremely well in some areas.
In IT for instance, women score 125 against only 63 for men. Similarly for data, it's 154 for women and 63 for men, while in audit, women score 32 against men's 14.
Clearly, the data show that, if a woman is qualified and applies, she stands a good chance of getting that job.
No shortage of female talent
The graduate numbers show there is no shortage of intelligent, educated, resourceful women in the employment market. The problem is they're just not applying to work in insurance.
Oliver James data shows that only 29% of insurance professionals in the market are female.
While that proportion rises to 54% for legal, 41% for compliance and 38% for audit, it is as low as 10% for data and 13% for IT.
Unless insurance finds a way of encouraging women into the industry, and then promoting them, it will continue to deny itself access to a huge pool of talent and expertise and an enormous reservoir of new thinking and new approaches.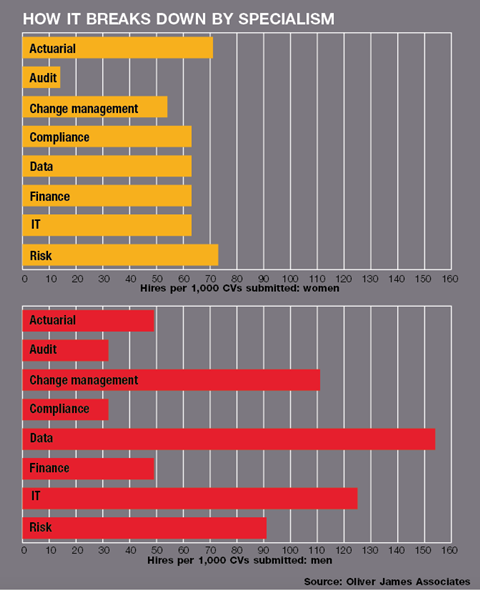 Conscious effort
As UK General chief executive Karen Beales said recently, insurance must make a "conscious effort" to promote more women and help them back into roles after a career break.
"We have looked to improve our recruitment policy, and the result is we have quite a different dynamic," she said.
"I believe you need that balance of knowledge, skills and just different personalities in the room to be successful."
Nick Godson, group director at Oliver James says:"The work of corporations like Lloyd's and the London Market Group demonstrates that diversity initiatives are taking shape, but it's up to us as recruiters to ensure those initiatives are being felt on the ground.
"Ultimately, the only way to drive real, actionable change in this market is to increase talent attraction from more diverse sectors.
"Challenging industry perceptions and breaking down cultural barriers can mitigate the need to fish from the same pond."