3-second claims disruptor's ambition is not limited to the US
New-York based start-up Lemonade grappled with its strapline, but eventually settled on: "a tech company that does insurance". Based on its performance in its first five months, that could prove a crucial distinction. The business shot to fame at the turn of the year when it revealed details of a claim it processed in just three seconds, using cutting edge artificial intelligence. Now, as its growth accelerates, the next move is expansion across the rest of the US, and potentially beyond, into other lines and other markets.
And Lemonade, or at least its disruptive model, could be coming to the UK.
Lemonade is an app that sells renters and homeowners insurance. Since its launch in September, it has seen its customer base grow by an average 39% per month, including 84% in January. It has benchmarks for taking out a policy in 90 seconds, and processing a claim in 180 seconds. It also has $50m cash in the bank, courtesy of a $60m investment spread over three rounds in just a year, most recently $33m in December from partners including GV (formerly Google Ventures).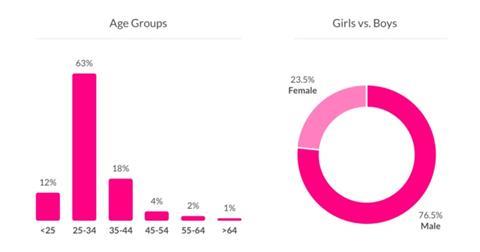 The headline numbers might be impressive, but why should the UK insurance industry take any notice of this startup?
The business model. Lemonade charges its policyholders a monthly subscription, not an annual premium. It takes a flat fee of 20%, and donates any remaining business profit, which it estimates at 40%, to charitable causes selected by its customers, effectively making it a P2P or mutual model. Customer service and claims expenses are reduced due to automation, which involves the use of bots to chat and enable transactions almost instantly. It also appears to avoid lower quality risks: 20% of its quotes are rated 'below average', but only 10% of conversions. By contrast, 28% of quotes rated 'excellent' account for 42% of policies.


Operating structure. Aside from its reinsurance arrangements, which include Lloyd's, the business is entirely self-sufficient. "It is one of very few Insurtech startups that addresses virtually all the current value opportunities," says Sarah Street, executive vice president, strategy and innovation initiatives for XL Catlin – also one of Lemonade's investors.

"We're different because everything is in-house," says Yael Wissner-Levy, head of strategic communications. The company currently has 32 employees, one of whom is a behavioural economist, and five of whom are classified as insurance, including underwriting. Half of the team are focused on technology and product development.


Transparency. By publishing details of its claims and its bank account balance, Lemonade is betting on building trust with customers, effectively opening up the product to new demographics either adverse to taking out, or as yet unexposed to insurance messaging – a market the company describes as the 'underserved'. Lemonade is also a Public Benefit Corporation, which means it has a commitment to social impact. A further benefit of this, the company says, is that it helps discourage fraud – the primary, albeit speculative charge leveled at the company after its automated claims generated such interest in January.

"We've not seen any numbers that suggest fraud is happening. The majority of fraud is done by people like you and me … So we say claim what you need. But claim wisely. It affects the cause," adds Wissner-Levy. The company would not disclose its most recent data (it prefers to publish its figures on its own blog), but it is bullish on growth, reporting it wrote as much business in the first week of January as in the entire month of December, when it revealed total premiums stood at $180,000, and conversion rates had doubled to 26% since September. Admittedly these are small numbers from a small base, but the fundamentals still look promising. Searches for the business on Google have been on an upward trend since the business launched.
A new market?
Lemonade could be coming to the UK. The company has already applied for licences to operate in 47 of the 50 states in the US, and expects to be active in some of these states in 2017. While it is quick to play down plans of international expansion, and is yet to decide on its operational approach for the US itself, including a potential network of regional offices, Lemonade says replicating its model in other markets does not present a significant challenge.
"New York is the most difficult environment to do business in the US… If you make it there, you can make it anywhere," says Yael Wissner-Levy, echoing Frank Sinatra. "The biggest obstacle will be underwriting according to vicinity."

"Lemonade was built with this kind of aggressive expansion in mind," the company says in its blog. "Our products and technology were designed in a way that requires very little, if any, extra effort to support the different regulatory requirements from state to state, and the fact that we use bots and AI instead of brokers and agents naturally simplifies things."
It is also worth noting the company already has a license to sell other lines, including motor.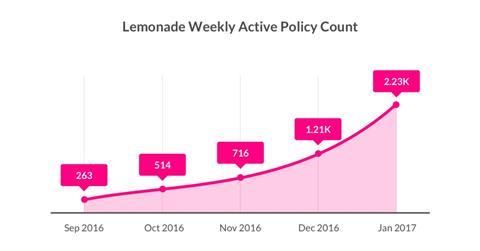 The underserved opportunity
Even though the company claims to offer a one-click switching service, Lemonade says that over 85% of its customers are buying home insurance for the first time.
"Our overarching conclusion from the past few months is we are getting to a whole new market who were never insured before," Wissman-Levy says, adding the businesses' social media following are a mix of consumers, younger demos and tech evangelists. "Insurance can be a social good. We can convey that to audiences: That insurance used to be about communities coming together." Lemonade has almost 5,000 followers on Twitter – an exceptionally high number for a business of its size.
Similarly, 75% of Lemonade's customers are under the age of 35. One in six are under 25.