Startupbootcamp FinTech nurtures innovative businesses and helps them find investors, and boss Nektarios Liolios warns the insurance industry not to close its eyes to disruptors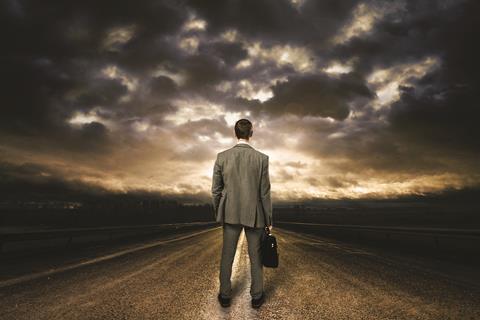 You've got heathy blood pressure of 100/70 and according to your Apple Watch you walk an impressive 14,000 steps a day, sleep a comfortable eight hours a day and have a resting heart rate of 60 beats/min.
That biometric data is used to create a health score so that a private medical insurer can reward you online at point of quote with a competitive premium. It sounds like an ideal situation for both insurer and customer.
Thanks to one of Startupbootcamp's clients working on this project, such a scenario may soon be more common across the US.
Startupbootcamp has helped many digital disruptors enter the financial technology arena with investment, mentoring and business support in return for an equity stake.
And now it has set its sights on the general insurance sector. In June it launched a general insurance division.
Startupbootcamp has already had successes teaming up with insurers so they can sponsor innovative digital start-ups.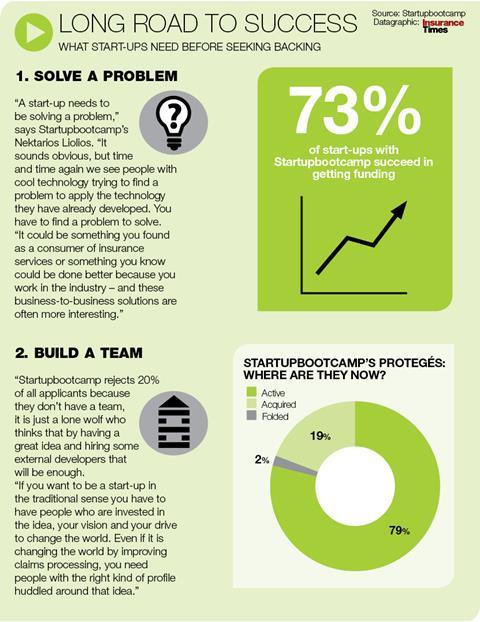 Click here for a larger version

Looking to partner
This is good news for the insurance industry, which fears that an outside disruptor, such as a Google or Amazon with easy access to customers and an abundance of data on them, could steal their business. So, as the saying goes, if you can't beat them, join them.
Nektarios Liolios, who co-founded Startupbootcamp five years ago, calling the business a digital accelerator, says: "We had a few insurance players come to us and say: 'This is interesting, the banks are doing this (looking to partner with start-ups) and maybe we should do something similar'.
"We had a community of insurance firms looking for the same model as we used in fintech, so we sat them round a table and told them what we did with fintech and our vision and asked them if they were interested.
"By November 2014 a few of them were genuinely interested, and in June this year we were ready to announce that we were the first dedicated insurance accelerator in the world."
Big names
Since launching, the insurance division of Startupbootcamp has heard from several potential start-ups located across the globe from North America, through Europe and into Asia, and has partnered with 10 companies to act as sponsors for insurance-related initiatives.
Included in this list of insurance partners are German giant Allianz and UK motor insurer Admiral. Corporate services firm PwC last week announced it has expanded its fintech relationship with Startupbootcamp to cover insurance.
"The insurance industry is undergoing considerable upheaval, with digital advancements and the possibilities offered by 'Big Data'," says PwC UK insurance leader Jonathan Howe.
"Executives are increasingly looking towards start-up innovation to help navigate a market filled with opportunities as well as threats."
Liolios warns there is still a long way to go before these types of start-ups become a viable option for the insurance industry.
Startups seeking help from Startupbootcamp can expect many benefits should they get through the application phase.
In a three month programme, start-ups meet more than 100 partners, investors, and mentors that take a hands-on role helping the company develop their product, validate their business model, find pilot customers, and raise funding.
The start-ups also benefit from an initial €15,000 (£11,000) investment from Startupbootcamp as well as desk space for six months in a co-working office. This is followed up by ongoing support as part of a global alumni growth programme.
Liolios says all this adds up to a nurturing environment that adds pace and energy to the tentative and dangerous early days of a start-up, helping them to break into an industry.
Benefits for sponsors
Liolios says there are also benefits for sponsors who engage with the programme.
"If they see a start-up that they think could be of value to the organisation, this gives them the opportunity to experiment with them over a short period of time by running a pilot or a proof-of-concept.
"But to be able to benefit from working with an accelerator, you need to have a procurement process that allows you to experiment with companies that only have three, four or five employees and has only been around for six months.
"Most of these organisations have procurement cycles that could last as long as two years – a start-up cannot afford that."
Liolios also has a warning for insurers who think the threat of disruption is not something they need to worry about just yet.
"Change is happening and you can't just close your eyes to it," he says. "If you want to engage with start-ups you need to build that capability – just saying we want to see some cool stuff is not enough.
"You need to have a sandbox environment to experiment, and change incentives for management, because middle and senior management are often not incentivised to bring in innovation and find ways of dealing with it.
"People see innovation as a box-ticking exercise. You can't look at it and say we will do one thing and that is enough – you have to try everything."