Nearly a quarter of a million claims have 'disappeared', according to executive director
The number of personal injury motor claims has continued to fall, with 93,113 of these claims recorded between 1 April and 30 June 2022 compared to 101,679 claims for the same reporting period in 2020 – during the height of the Covid-19 pandemic and associated lockdowns.
This is according to information from the Department for Work and Pension's Compensation Recovery Unit (CRU), which recovers social security benefits and NHS costs in certain compensation or injury cases.
Published today (28 July 2022), its data was released following a freedom of information request from the Association of Consumer Support Organisations (ACSO).
Matthew Maxwell Scott, ACSO's executive director, said: "Given there has been a bounce back in UK traffic levels since [the Covid-19 pandemic], we would expect the number of road traffic accidents largely to mirror these, but it is simply not the case."
The number of personal injury motor claims made between April and June this year was also less than the volume recorded in the CRU's prior reporting period – there were 97,099 personal injury motor claims made between 1 January and 31 March 2022.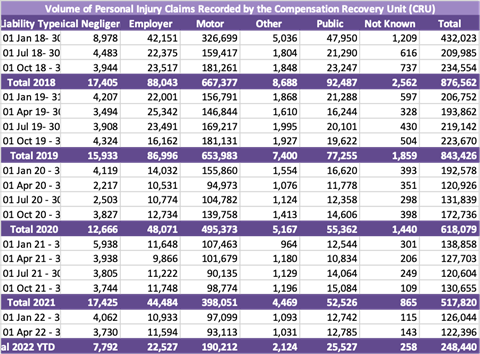 The new CRU data follows the Motor Insurers' Bureau's (MIB) release of its Official Injury Claim (OIC) portal data earlier this month (11 July 2022).
While data from the OIC portal and the CRU is not directly comparable, both sources evidence a continuation of declining claims.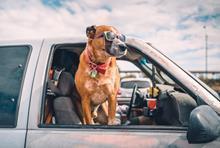 The OIC portal's most recent figures, for example, reveal that only 70,718 soft tissue personal injury motor claims were made through its system between 1 April and 30 June 2022 – a decline from the 97,099 claims made in the period between 1 January and 31 March 2022.
Access to justice
Maxwell Scott added: "We've now had a whole year's data for motor claims where every quarter shows the number recorded by the CRU to be below 100,000.
"As the three month average before the pandemic was around 160,000, this means some quarter of a million claims we might have expected to be recorded have disappeared.
"While people's driving habits have changed, one explanation must be that genuinely injured people are not claiming when they could. This might be because the new Official Injury Claim process is too complex, or simply because [consumers] don't know about it.
"Ministers might count this as a success, but those with an interest in preserving access to justice will think otherwise."
Inefficiencies remain
Jenni Baldwin, managing director of Essential Legal Services, a member firm of ACSO, said: "These latest figures show that claims are decreasing despite road traffic use not decreasing at the same rate – a clear indicator of the fact that the government portal is not working anywhere near as well as it should be.
"We have continued to see claims management companies exiting the market as a result of the portal being set up, which has also led to the drop in figures.
"Yet it is clear that the customer experience is a world away from what it should be – the inefficiencies remain and it is deterring people from making claims.
"Only by talking to – and listening to – the industry can any progress be made."