The insurer cited the London Market as its "standout performer"
Profits for Hiscox were up despite a busy year in claims.
The insurer's GWP was $3.8bn (£2.9bn) in 2018, up from $3.3bn (£2.5bn) the previous year.
It said that its gross written premiums were up 15% and that it has "generated strong growth and good profits."
And it's profits before tax tripled to $137.4m (£105.02m), up from $39.7m (£30.3m) the previous year.
This is according to the insurers' financial results this year ending 31 December 2018.
Rob Childs' chairman at Hiscox told Insurance Times: "The premiums' up 15% at $3.8bn (£2.90m), we achieved growth in all the areas, and profit is up 25% to $151m (£115m) and we improved our combined ratio to 94.4%.
"So, I think that on the whole we were very pleased with this result considering this is our second difficult year of serious catastrophe losses in the market, I think that really sets the tone for our results."
Catastrophe losses
But Childs' said that in 2018, the firm had $80bn market losses across Japan, the California wildfires, and a range of individual risk losses.
He said that this on top of a whole host of losses in 2017 makes the combined market catastrophe losses across 2017-18 the worst two-years ever.
However the firm's reinsurance arm was balanced out by the good result in the London market business and its retail arm.
Highlight of the year
Ben Walter, chief executive of global retail at Hiscox said that the highlight of the year was the turnaround of the London Market.
This returned to growth and profit following three years of discipled cycle management.
Walter's explained said the firm is quite proud that we started that process two years ago before we were told to do it following the recent pressure on the London market from Lloyds.
"That speaks broadly to Hiscox's long history of being a company with a strong underwriting discipline and not being afraid to make the adjustments that we need to make.
"We are proud of our ability in the face of a tough market we can make tough decisions and we are glad to see those pay off, frankly what we think will be ahead of the market," he added.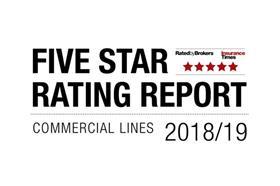 Tough Action
Walter's said the firm exited around $400m of business over the last three years, it has exited in both healthcare and auto.
But he added: "Running a successful business is not just about cutting its also about growing the areas where we saw a margin, which was in in property, general liability, cyber and terrorism."
In terms of what the insurer could have improved, Walter added that it could always do better, "we are a very humble business and we can always do better."
Brexit
Although Brexit might be an obstacle for some Childs, said that for Hiscox it has already happened on January 2.
He explained: "We moved all our business under a part seven transfer to our new European entity, so Brexit for the most part is done and dusted for us.
But he said that the remaining obstacle for Hiscox is what happens to the broader economy, such as how long the political environment stays in the uncertainty that it is in.
"If it causes a general slowdown in Western Europe that will impact us, both from a growth and presumably from a claims perspective. But we are prepared to ride that out," he said.
But he added that there were many obstacles such as capital being more fluid than it has ever been, competition moving quickly, and Hiscox continuing to invest heavily in large technology programmes.
Lloyds restructure
Hiscox is hopeful about the restructure at Lloyds, seeing it as a good thing for the market and very much support its efforts.
Bronek Masojada, chief executive of Hiscox, added: "The tough action we took in our London Market business is paying off, and we are seeing some positive momentum in big-ticket lines, where rates, terms and conditions are improving.
"We are growing well in our chosen retail segments, and our small market shares mean the size of the opportunity in retail remains immense."
It continues to invest in in its brand and infrastructure to maintain focus on growth.
Hiscox will also see a new chief executive lead the UK business, Bob Thaker who will assume the role next month.
Subscribers read more
Cyber Insurance: The anatomy of a claim - part two