Marsh's Mark Weil accuses the industry of being 'weak' for asking for help from government
There is no need for a Pool Re-style fund for cyber insurance, a Marsh-backed government report has insisted, despite the risk of aggregated risks in the cyber insurance market.
UK Cyber Security: the role of insurance in managing and mitigating risk, published today, has estimated the current exposure to cyber risks at £100bn, with the possible maximum loss (PML) from a single event standing at £20bn.
This is less than the £65bn PML for the natural catastrophe market (see below), and as such the report said there was no need for government intervention similar to that under Pool Re.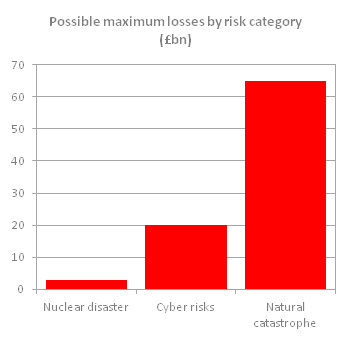 Speaking at a briefing about the report, Marsh UK and Ireland chief executive Mark Weil said the insurance industry needed to step-up and be strong in the face of the 'greatest risk' to emerge in this generation.
"[This is] the major risk that we are going to see in our generation, and to immediately put your hand up and ask for recourse from government seems to be a pretty weak response," he said. "The insurance industry has the capacity to cope.
"My personal view is the insurance industry should get on with it. You wouldn't know where to begin in forming such a pool, because without the claims, the definitions and the numbers it becomes very hard to imagine how you would do it."
However, as the market penetration of cyber insurance increases, the need for a risk pooling system could increase.
But Weil said that such a scenario was some way off and that there were no plans currently in place for implementing a Pool Re-style system for cyber insurance.
"The insurance industry will continue the discussion, but we don't have a recommendation to form such a pool or even begin to work to form such a pool," he said.
Join the debate at our Insurance Times Tech Forum on LinkedIn