Justin Romero-Trigo and Simon Mabb reveal their ambitious drive for growth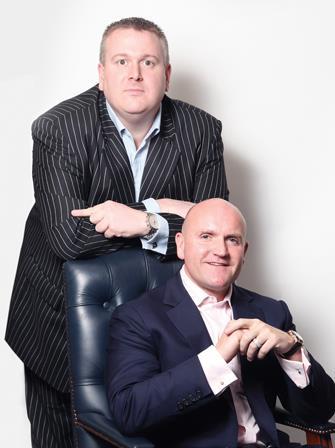 Meet Justin Romero-Trigo. Not many people will know, but he's the owner of an independent Leeds-based broker about to embark on an ambitious growth drive. Ring any bells?
The broker in question is Romero Group and Romero-Trigo, 42, is its chairman. Insurance Times meets him with his managing director Simon Mabb, a familiar face to the broking fraternity, in the boardroom of the company's office in Horsforth, near Leeds.
Romero-Trigo, a stocky, shaven-headed Yorkshireman wearing a pale pink open-collared shirt, was 26 when he began the business in 1997, having started as a trainee broker at Sedgwick James eight years earlier. In recent years he's kept a low profile in the insurance market. "I'm not market facing at all," he admits.
Enter Mabb (pictured standing). Drafted in by Romero-Trigo in 2008 to be his right-hand man, he's responsible for the day-to-day running of the business, for talking to insurers and increasing Romero's presence in the market. This lets the founder focus on relationships with key clients.
"I suppose we're like each other's eyes and ears really," says Mabb. He was well known to Romero-Trigo before joining the broker, having been the Leeds regional manager for AXA, where he spent 14 years in various guises. It was a bold move by both sides, but Mabb has never looked back on his switch to broking.
"I love it," he says. When you work for an insurer, even though I had external roles working with brokers, you don't really understand what goes on within a broker's market."
The group has 95 staff in two offices, including one in Halifax that opened in 2011 and writes annual gross written premium (GWP) of £35m. Romero-Trigo also owns Nightclub Direct and Millennium Leisure, a specialist broker for bars and clubs that he launched in 1998 after spotting a niche in the market.
When they get to the exciting bit, their plans for the future of the business, both Mabb and Romero-Trigo sit upright in their seats. They're one year into a five-year plan and the target proposed by Romero-Trigo is £100m GWP. Acquisitions are unlikely, he says, as the company's growth to date has been organic and by attracting top staff from competitors. "I'm not saying never. If somebody came along that would complement Romero, we would consider it. But there's too many people paying ridiculous prices."
The broker, awarded chartered status in June, achieved impressive growth of 26% in its last financial year to April 2012, with commission income standing at circa £6m, still someway short of an £18m target.
Eyeing up the North East
Next on the cards is Manchester. The broker recently set up an office in the city with two staff, including Martin Mansley, brought in from Jelf. "It's an area where we need some presence," says Romero-Trigo. "It's a very big market." The broker then plans a foray into the North East, by May. "We've seen some good opportunities, and we have a strong presence up there already," he adds.
Most of Romero's business is based in the North, or two hours from Leeds, says Mabb.
The broker's book is predominantly general commercial, with a strong bias towards the retail, construction, manufacturing and food industries.
We're fiercely independent, that won't change. We've had numerous approaches; we're just not interested

Justin Romero-Trigo, Romero Group
It has also attracted a handful of large corporates in the £50m to £500m turnover bracket, alongside schemes in the education sector.
The nature of the company's business puts it in direct competition with established players in its local markets. Considering its relatively short history, Romero has done well to establish itself in the fiercely competitive local market. "Leeds is one of the most aggressive markets in the UK. Brokers have to be tough to survive," says Mabb. Growing up in East Anglia, he only had a couple of years' experience in Leeds before joining Romero and adjusted quickly to life in the North.
The firm often comes up against consolidators, including Bluefin and Giles, and a clutch of large independents fighting for local business, such as Henderson Insurance Brokers, a company with which Romero has a healthy rivalry. "We enjoy that," says Romero-Trigo. The broker is also set for a High Court battle in April with its former corporate manager Andrew Templeton and his new firm Yorkshire broker Eastwood & Partners in a dispute over an alleged breach of contract.
Red tape burden
More pressing for Mabb, though, is the increasing burden of regulation. He says the FSA is spending too much time on the wrong brokers. "We put a huge amount of effort into things like client money. Yet I'm quite aware of people out there who probably aren't doing that. I think perhaps some of the bigger brokers are being focused on, whereas they're probably in a better place than some of the smaller brokers that are struggling."
The duo are also well aware of the current focus on unrated insurers and financial strength ratings after last year's collapse of Gibraltar-based Lemma and insurer downgrades, including Groupama SA and MapFre. Romero-Trigo says clients receive a health check. "There are cheaper markets and clients will take that risk, but you have to be open and honest and show them the credit rating."
Romero-Trigo's last words before running off to meet a client are a warning shot at any consolidator tempted to make a move on his company. "We're fiercely independent, that won't change. We've had numerous approaches; we're just not interested. The company is not for sale." If you didn't know him already, you do now.