Paul Meehan is no stranger to the market, and enjoyed a high-profile ride at AXA. So what are his motivations for joining a small, little-known broker?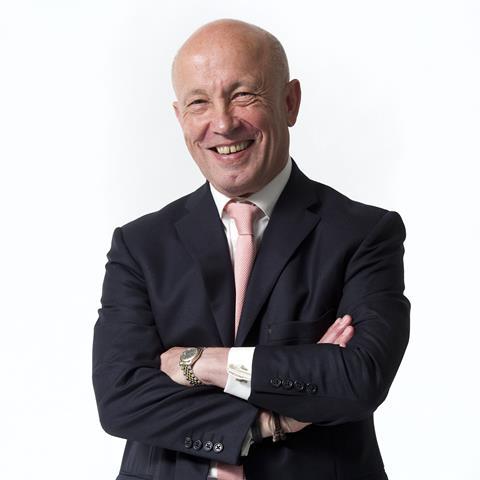 Paul Meehan has quite a history. As one of the best-known faces in broking, he's about to return to the market he knows best after a brief spell as poacher turned gamekeeper for AXA - and therein lies a tale.
Meehan and AXA go way back. After selling his business Smart & Cook to the French insurer in 2007, Meehan missed out on the top job at its broking business to Stuart Reid.
He headed for the hills, only to return - just days after his leaving party - in the new guise of customer experience director, aka right-hand man to incoming chief executive Philippe Maso.
Then the wheel of fortune turned once more. Maso left AXA following the promotion of Paul Evans to group boss and, with him, at the end of last year, went Meehan.
He has come to Insurance Times's London offices today to talk about his experience at AXA and reveal a triumphant return to the broker market, where he will be hiring teams and building business for Lorica, with a focus on his old stomping ground in the north of England.
Disrupting the comfort zone
Straight-talking Yorkshire man Meehan begins by running through his successes as a customer experience guru on the insurer side. Maso brought him in to sort out customer service, for which the insurer had a notoriously bad record.
By general acknowledgement, Meehan had some successes, but crushed a few toes along the way. "That's the nature of the business," he says, folding his arms and smiling calmly. "It's important to get people out of comfort zones and shake things up and challenge things - that's what I've always done and that's what I did inside AXA.
"People don't like that sometimes, but it gets results and it improves businesses." You get the sense he enjoys it, too.
Once Philippe Maso had gone, it was time for me to go too"
One of the toes Meehan stepped on belonged to commercial boss Ant Middle. Middle left the business for rival Aviva in June 2010, prompting Maso to complain that he "probably could have - should have - finished what he started to do". His departure created a vacancy that, for several months, was the most talked about job in the industry.
Meehan was quickly linked with the position, and made no secret of his desire for it.
"I wanted the job - whether I would have got it or not, I don't know," he says. Last summer, all Maso would say on the matter was that he had a strong shortlist, internal and external, and refused to be rushed.
But it was a big job to leave vacant. Over the course of the summer, things became clearer. Group boss Nicolas Moreau returned to Paris (despite AXA's PR camp having angrily denied Insurance Times's revelation that he was planning to do so). Then AXA sold its life business to consolidation vehicle Resolution, former life boss Paul Evans was promoted to Moreau's old job, and within days Maso was out.
Meehan can't talk about Maso's departure, or his own, but he will say: "Once he'd gone, it was time for me to go too."
No time to stand still
And what next for Meehan? With a tidy sum in the bank following the sale of Smart & Cook, and a keen interest in charitable pursuits, isn't it time he called it a day?
No chance. "I've always found the business fascinating - it's always changing," he says, enthusing about the new opportunities provided by e-trading and emerging risks.
In fact, he's recently developed a new product called CyberProtect, underwritten by Zurich, which is now being sold through several of Meehan's old muckers among the big brokers. "I've been in pitching to a lot of the consolidators, so I've been very much in the market," he says. "It's been fun."
Meehan is very well connected and has been linked to several senior jobs or directorships in the broker market.
A lot of brokers have got old-fashioned employment models - they're businesses with no real future"
He's friendly with Chris Giles, for example. But today's big surprise is that he's actually signed up to a less well-known broker: Lorica, part of the Primary group. He's joined as a non-exec, though he says the role will actually be larger than that, with a remit to sign up new staff and teams, and develop the business in the north of England.
And, ever the salesman, Meehan has an original incentive for anyone who comes onboard. "Most of the brokers out there have got old-fashioned employment models - they're sitting in businesses with no real future. We are looking to create a kind of capital build model for those guys.
"If you come in to a brokerage, usually you will get paid a salary. You might get a bonus, but the brokerage will get the benefit of the business you write. What we are trying to do is create a model where individuals come in and are paid a capital sum when they leave for the business they have built."
It's an attractive proposition, and Meehan has many personal connections to leverage. But he'll be playing by the book. "We are not in any way, shape or form going to breach covenants," he says, though he smiles that "Primary has got a chequebook".
Everything changes
So why did he choose a smaller business to make his return?
"Can I add value, and will I enjoy it?" he says. "Those are the only two things that matter. Whether I enjoy it is a function of whether I am inspired by the idea - do I get a push or pull towards it? When I came out of AXA the first time, I probably should have waited a little longer before I decided what I was going to do. I got offered some really interesting things after I went to AXA."
"We're in a completely new environment for insurance brokers - it's been nine years now in a soft market," he adds. "Everything's changing and there'll be winners and losers."
You could argue that Meehan's been on the losing side when it comes to AXA twice over. But he doesn't think so.
The insurer that paid him millions for his business in 2007 has loomed large in his working life ever since. Now, it's finally time to move on. For good? "Never say never," Meehan cackles, a twinkle in his eye.
Snapshot: The man
Born: Leeds
Hometown: Knaresborough
First job: Banking
Family: Two daughters
Interests: Cycling, playing guitar
In his own words: 'Can I add value, and will I enjoy it? Those are the only two things that matter. Whether I enjoy it is a function of whether I am inspired by the idea'
Snapshot: The company
Brokerage: £8m
Market view: A little-known broker, Lorica has rarely attracted market attention