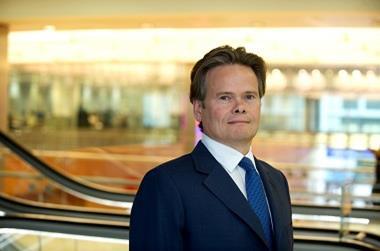 QBE has warned that it may have to take a "revised approach" to around £500m of the insurance and reinsurance premium it sources from the EU following the UK's decision to leave the bloc.
This could involve writing the business through new EU-licensed entities, the insurer said today.
The business is currently written by QBE's UK regulated entities under current EU passporting rules.
The passporting rules allow companies to use their home licence to operate across the EU and European Economic Area, but UK's ability to use them may be under threat because of Brexit.
QBE's European operations are headquartered in London and run by Richard Pryce (pictured).
The insurer said in a statement: "Should EU passporting rules not be preserved, QBE will be required to renew this business into newly established licensed EU entities."
QBE also noted that the exit is expected to take two years, which it said "provides ample time for any requisite administrative transition and to ensure our service commitments to QBE's European customers are uninterrupted.
"Thus our ability to source business from EU member countries remains unchanged."
It added: "Accordingly, QBE does not anticipate any material impact on our day to day insurance operations as a result of the UK's decision to leave the EU."