Claims management companies are adapting to the banning of referral fees by selling on consumers' data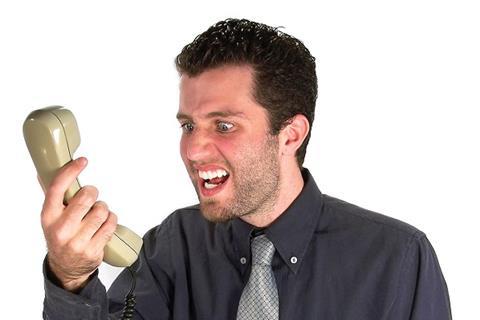 On 12 May, the City of London Police revealed it had arrested three people – including a former LV= employee – over the allegedly fraudulent sale of road crash victim's data to a claims management company (CMC).
The police said their insurance fraud department had taken action after insurer LV= referred suspicions that an employee had passed information on 50 collision victims to a CMC in exchange for £17,000.
And in April, the Information Commissioner's Office (ICO) took a Bolton-based CMC to task for making nuisance calls. It fined Direct Assist £80,000 after receiving 801 complaints from individuals plagued by direct marketing calls.
One household reported being called 470 times by the company, which has now gone into liquidation.
"Direct Assist's behaviour shows a blatant disregard for the law and the customers it tried to contact," said ICO head of enforcement Steve Eckersley. "Even though the Telephone Preference Service (TPS) contacted them 525 times to warn them about complaints being made, they continued to market their services through unsolicited phone calls.
"This type of irresponsible marketing is unacceptable. Companies need to think about their responsibilities, the law and the consequences if they try to break it."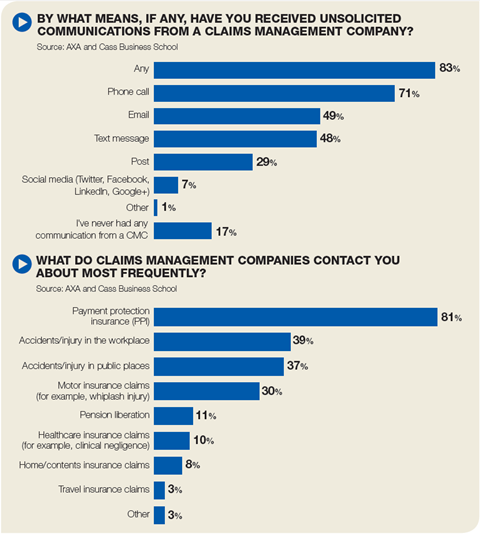 CMCs undeterred
Research by AXA, however, suggests efforts to tighten the rules and increase fines for unsolicited communications has so far done little to dissuade determined and increasingly desperate CMCs.
It found that one-quarter of all UK adults have been contacted by a CMC in the previous 24 hours, up by 7% on a 2013 survey.
And it is not just adults being contacted, revealed Biba executive director Graeme Trudgill.
"Even my 13-year-old son got a text from a CMC saying 'you've got £4,800 waiting for you following your whiplash industry'.
"If the CMCs had stronger regulation, customers wouldn't be enticed to try and claim their £4,800 that's 'waiting for them'."
The most frequent type of contact from CMCs relates to redress for the mis-selling of payment protection insurance (81%), according to AXA. The second highest subject of communication concerns accidents in the workplace or in public places.
"You just have to look on LinkedIn," said Hill Dickinson technical claims manager Phil Oultram. "Claims referral companies advertise fresh RTA leads for hundreds of pounds.
"Some high street CMCs have reinvented themselves or been replaced by data miners, and they are going through data and making phone calls and sending texts and targeting us because they've received our information from a garage or a hire company."
"The data is certainly not being used for the intention it was recorded for. As soon as the ICO gets rid of one company another one pops up selling exactly the same information. I'd rather have fewer claims referral companies on the street forcing people into making claims, and at the same time it's not desirable to have all these peoples' data bought and sold," he added.
"But the good thing is, the more it's done, the more it's getting peoples' backs up, the more they are making complaints to the ICO."