In a global market, where even small companies are increasingly reliant on suppliers in other countries, the potential for business interruption has continued to grow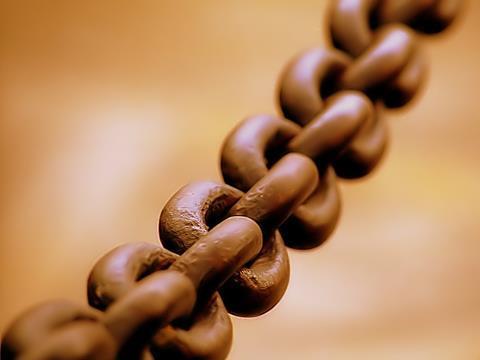 Supply chain disruption is becoming more frequent and more costly, according to research by the Business Continuity Institute (BCI). The BCI's annual supply chain survey, now in its fifth year, shows that 80% of organisations polled in 2014 were hit by a supply chain incident in the past year, compared with 78.6% in the preceding four years.
More than 15% of those affected in 2014 experienced between six and 20 interruptions. The reasons are many. Physical damage remains a major cause, with adverse weather, natural catastrophe, floods and fires preventing critical suppliers from getting components out into the market.
But, increasingly, the causes of interruption come from non-physical sources, including IT and telecom failures, cyber intrusion, pandemics, bankruptcy and political unrest. In the BCI survey, cyber attack and data breach are in the top 10 causes of supply chain disruption in 2014.
And lean manufacturing techniques and the creation of increasingly global and complex supply chains means companies are ever-more susceptible to these sources of interruption than they were 10 years ago.
The consequences are also becoming more costly, as more companies report lost revenue owing to supply chain disruption, leading to lost productivity, higher working costs and the expense of using alternate suppliers.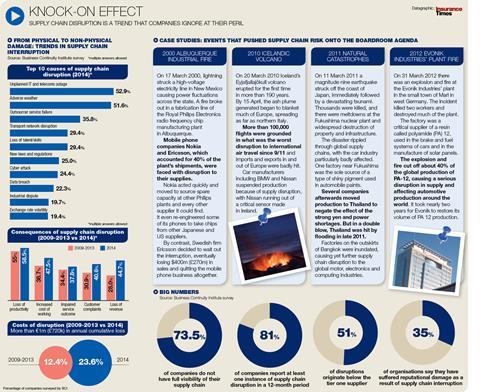 Click here for a larger version
Significantly, the number of organisations that say they have suffered reputational damage as a result of a supply chain interruption has grown to more than one-third (from 21% to 35%) in five years. Supply chain complexity makes it difficult for risk and business continuity managers to have a clear view of who supplies their suppliers beyond the first tier.
Marsh Global Business Interruption Centre of Excellence leader Caroline Woolley says: "People have a relatively good idea about direct suppliers, but won't always realise what they are exposed to much further down that chain.
"Businesses are looking in a lot more detail at their supply chains," she says. "There's a realisation it's not just their own locations they need to look at.
"It's not the cost to you, it's the profit that's reliant on that item that's important. That helps to focus the mind on the vital supplies but also on identifying pinch points," she adds.